ALIENS COMIC BLOG & IN-UNIVERSE CHRONOLOGY - AVPedia
+ "Fantasy is bullshit. I'm into hard sci-fi." -Roman DeBears
+ My favorite comic series: Aliens: Hive / Cyberantics
+ My Favorite novels: Aliens: Phalanx (reminds me of Death Stranding) & Alien: Prototype.
+ I have the most fun reading comics/novels have to do with Xenomorph cults, like Elder Gods,
and Spliced Xenomorphs, like AvPvJudge Dredd!
+ Film adaptations in my Aliens universe comic collection, and the core releases I organize my collected and ongoing Aliens, Predator, Aliens vs. Predator, Prometheus and crossover comics around.
ALIEN
THE LONG TOMORROW by Mœbius
Heavy Metal Magazine Vol 1 # 4-5
PREY ~ 1700s
Could this have anything to do with 1715?
THE THING FROM ANOTHER WORLD - 1982
Who Goes There? (novel)
(A) The Thing From Another World
(A1) THE THING (2011)
(B) THE THING

The Thing From Another World (comics 1,2)
The Thing From Another World: Climate of Fear (comics 1-4)
The Thing From Another World: Eternal Vows (comics 1-4)

(B) THE THING

The Thing From Another World: Questionable Research (DHP 13-16)
PREDATOR : THE ORIGINAL SCREENPLAY
PREDATOR - 1987
Predator: If It Bleeds (anthology novel)
AVP / AVPR - 2004
+9/16/18 Went to the theater opening night of The Predator! It was great but I couldn't help think.. who would win in a fight...
+6/13/17 Watching 1993's Tales from the Crypt: People Who Live in Glass Hearses (S05E05) and came across this faux comic cover sporting the title Jesse James vs. Predator. A duel we would later witness in DHC's 1998's Predator: Hell Come a Walkin' two-part comic.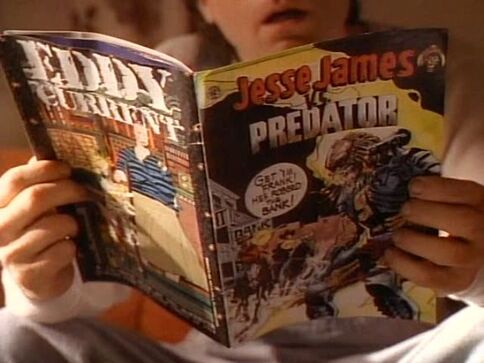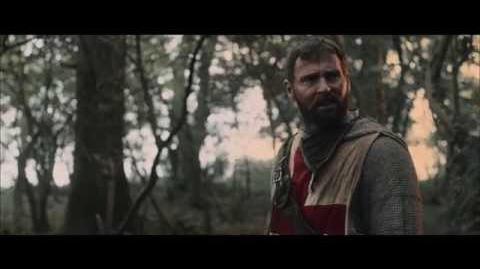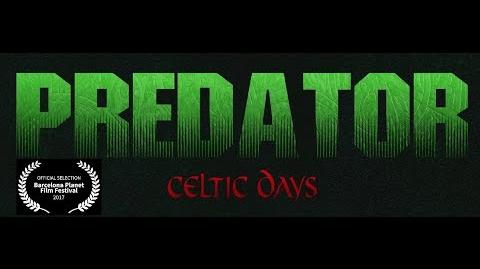 BLADE RUNNER - 2009-2049
Blade Runner Origins (2009)
Blade Runner - Marvel + Super Special #22 (2019) *film adaptation
Blade Runner: 2019 - (comic sequel) (2019)
Blade Runner: 2029 - (comic sequel) (2029)

Blade Runner Black Out 2022 *anime short (2022)
2036: Nexus Dawn *short film (2036)
2048: Nowhere to Run *short film(2048)

Blade Runner: Black Lotus (2032)
Blade Runner: 2049 (film) (2049) *sequel

Soldier (Film) Blade Runner and Aliens referenced (2035)
+5/12/17 PROMETHEUS (2012) Special Features: HAPPY BIRTHDAY, DAVID ... A message from Peter to David about his former mentor, Tyrell of Tyrell Corporation.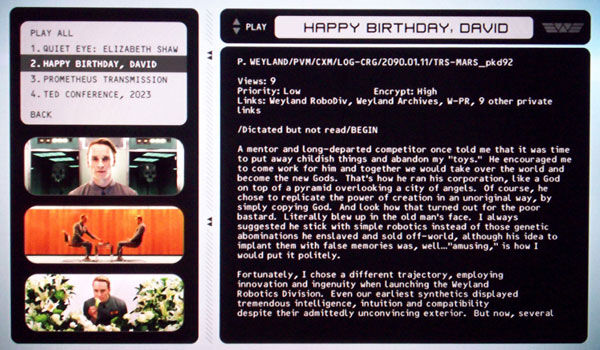 + 5/10/16 "Hey all, here is a cool screenshot from the ALIENS portion of the Anthology release. The image is showing a biographical rendering of Arthur Dallas' career benchmarks prior to his time aboard the Nostromo. In 2116, Dallas served as a Warrant Officer through multiple transports on the USCS Shusett, chartered by none other than Tyrell Corporation, before working with Seymour-Cobb Genetics Corporation and ultimately becoming captain of the Nostromo while employed by Weylan-Yutani. I officially think Xenopedia should absorb the Blade Runner wiki and join both films in one universe once and for all."
+6/27/16 Watching SOLDIER (1998) check this screenshot linking soldier to BLADE RUNNER..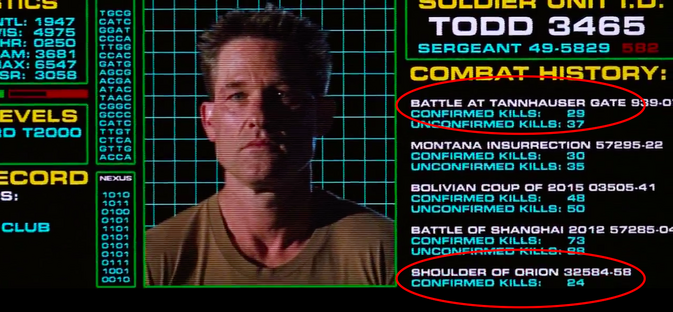 PROMETHEUS - 2023 & 2091-2094
Alien: Covenant - Prologue (Chapter 1 of film)
Prometheus (Film) (Aug 7, 2091 - Jan 1, 2094)
+6/24/16 "IF WE CAN, WE MUST." -Peter Weyland 2023
+5/11/17 EVA suits from Prometheus (left) and Covenant (right)

ALIEN: COVENANT - ORIGINS - 2094-2104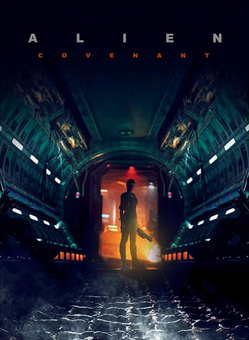 ALIEN: COVENANT - 2104
+01/02/17 I read recently FOX is considering Fire & Stone / Life & Death canon over all other comics and in light of the Alien: Covenant trailer, I thought I'd share this, via Scified...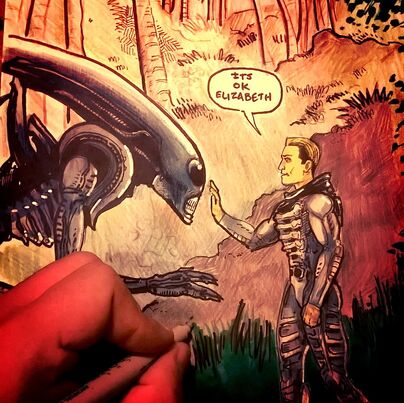 +5/10/17 Colonisation Unit 001 patch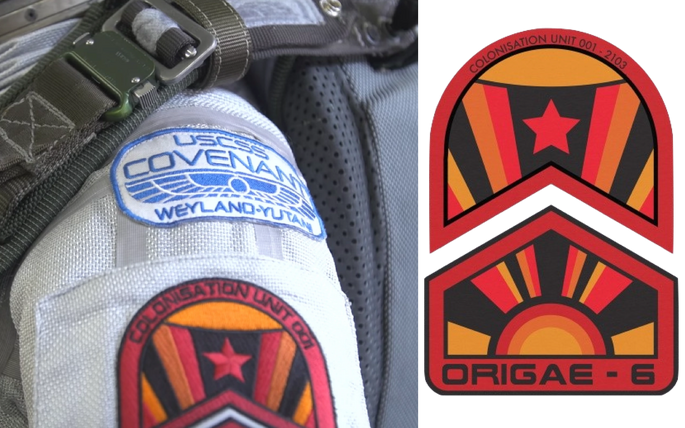 +5/20/17 Alien: Covenant Evolution chart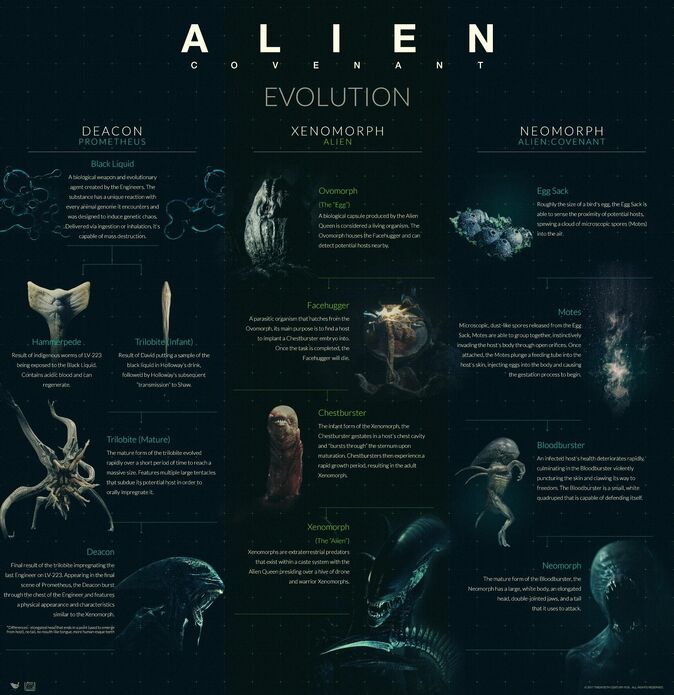 ----------------------------------------------------------------------------------------------------------------
OUTLAND by Steranko
Heavy Metal Magazine Vol 5 # 3,4,5,6,7 & 10
ALIEN: THE ORIGINAL SCREENPLAY
ALIEN: THE ILLUSTRATED STORY - 2122
Alien: The Illustrated Story (2122) *film adaptation
+4/17/18 Alien USCSS Nostromo Board Game!! 2-7 players!
https://www.alientheboardgame.com/
ALIEN: ISOLATION / BLACKOUT / DEFIANCE - 2136-2137
+3/28/17 Replaying Alien: Isolation in ALL of its glory. Here is a film put together from gameplay and cutscenes... truly the next installment to the series in my mind.
+ SEVASTOLINK is an LM-LINK Data System Product that runs on a Karnak terminal
+10/21/16 Help update the Europa vessel page, the Davis 01 page and the Davis (model) combat synthetics page from Aliens: Defiance.
+9/28/16 Aliens: Defiance #5 just pulled me RIGHT in. Finally, the issue I needed to really get into Defiance. Here's a little reference I found while reading..
Aliens 1988 #5 vs Aliens: Defiance #5
ALIEN: PROTOTYPE - 2139 / RESISTANCE - 2140 / RESCUE - 2145
ALIEN: ECHO - 2172 / RISING THREAT - 2177
ALIENS: APOCALYPSE - 2142
Aliens: Apocalypse - The Destroying Angels (2142)
+11/12/16 Re-reading all of my Dark Horse Aliens one-shots, short stories, and tie-ins to cull any names and dates I may have missed over the years. It seems like the Aliens: Apocalypse - The Destroying Angels miniseries and its tie-in story Aliens: Once in a Lifetime are related to Aliens: Wraith, a one-shot comic, by using the name of a common planet, Tirgu-Mires.
+10/8/16 Tonight's read... Aliens: Wraith In the opening panel, we see Roark arriving on Tirgu-Mires agri-colony while the fourth-generation teens watch from a Chigusa land rover. When they become friends, Roark goes into a cave on a dare covered up by an old, weathered Weyland-Yutani sign.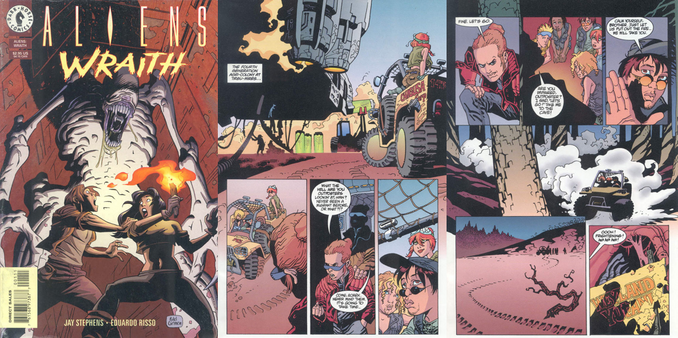 In the cave, we are introduced to a giant, white, old and sickly xenomorph who has taken a number of colonists in the past.. Colonial Marines become involved, they kill the teens and discover a secret in the cave older than the xenomorph they just put down. Maybe a secret left behind by Chig & WeyYu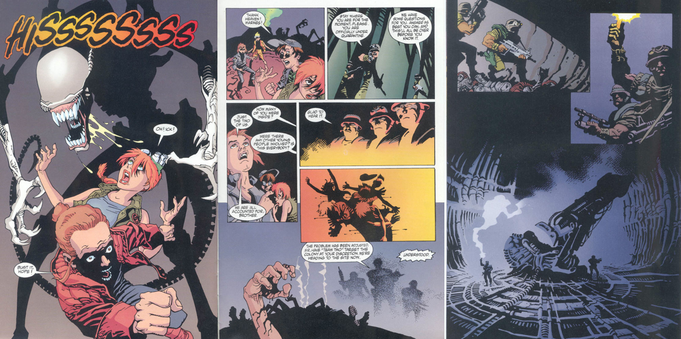 +9/14/16 Aliens comics that include the phrase 'Linguafoeda Acheronsis'.
Aliens: Apocalypse, Aliens: Once in a Lifetime, Aliens: Havoc, Aliens vs Predator vs The Terminator.
ALIEN: OUT OF THE SHADOWS - 2159
ALIEN: RIVER OF PAIN - 2179
AVP: THE HUNT BEGINS
ALIENS: NEWT'S TALE - 2179
+3/22/17 'Do Aliens Dream?' from Skeleton Crew V2 #2 is a short story seen from the perspective of a Xenomorph dreaming of its recent past and its own foreseeable future, which startles the alien awake after sensing the future elimination of its queen mother, giving the reader insight into the pre-cognisant mind of the xenomorph as a species.
+11/16/16 Awesome haul today! I found a dvd copy of Batman: Dead End, a fan film that pits batman against Joker, an Alien & a Predator. I also found Skeleton Crew Volume 2 Issue 2 containing Do Aliens Dream?, an unofficial tie-in story to Aliens and/or Aliens: Newt's Tale.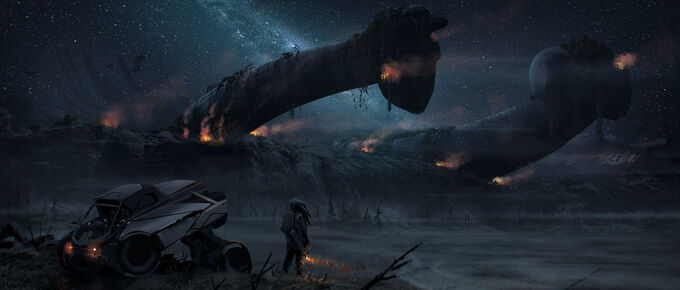 +8/30/16 "You're dog meat, pal!" "I know you are, but what am I?"
+ Aliens: The Ride (Planet Coaster)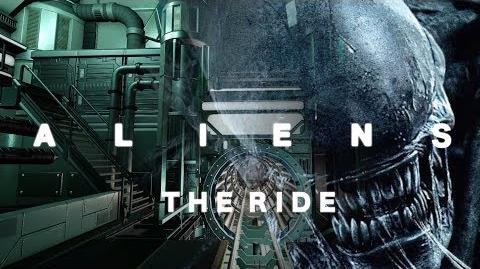 ALIENS: COLONIAL MARINES (VIDEO GAME) - 2180
Aliens: Colonial Marines - No Man Left Behind (2012 comic) (2180) video game tie-in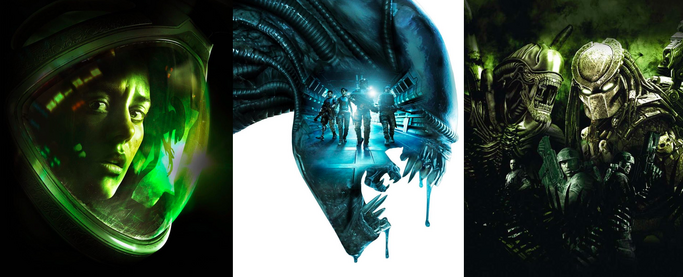 ALIENS: SPACE MARINES - 2179 +/-
12/5/16 It's been some years since Kenner held the rights to either Alien or Predator, but current rights-holder NECA has been steadily paying homage to the Kenner Predator era with a few different releases and will be venturing into Kenner's Alien line as well. The Ultimate Battle, No. 13 of Aliens: Space Marines, was packed with Kenner's original 1994 Aliens vs. Predator two-pack release and now that NECA is putting their own spin on these two figures, NECA's in-house photographer, Stephen Mazurek, has recreated pages 1 and 7-14 from the original tale using photography of NECA's actual figures, which can be seen here.
+12/4/16 In the Aliens: Space Marines mini-comic no. 1, titled Aliens: Desert Storm, Bishop mentions his Hyperdyne Systems (spelled Hyperdine) programming to Apone
ALIEN: THE COLD FORGE - 2179+
+ 4/30/18 The Cold Forge wikia info to be added
ALIEN: INTO CHARYBDIS - 2181/2183-84
Alien: Into Charybdis (Follow up to The Cold Forge)
2183 12/2
USCSS Gardenia - A light commercial towing vessel (like USCSS Nostromo) 9 total crew

McAllen Integrations Corp.
Jerry Fowler (deceased)

Mary Fowler (survivor)
Chyenne Mary "Shy" Hunt (deceased)
Noah (deceased)
Arthur Atwater (deceased)
Joanna Hardy (deceased)

LV-991 designated Hasanova - bottomless hole surrounded by small rocky island. brackish water all directions - cloudy skies - Weyland Corp. find
USCM USS Bennet
Darkstar (Seegson / Weyland Corp ship)

Blue Marsalis - mutated with black goo, pathogen, plagerous prapoetens
Dr. Richard S
Rook (synthetic)
BLUE MARSALIS RETURNS! Following The Cold Forge
ALIEN: THE ROLEPLAYING GAME - 2183
ALIEN: COLONY WAR
ALIENS: DNA WAR (After A2 - Before Outbreak)
ALIEN: BLOODLINES - 2200
Maybe Marvel will attempt to explore the ultramorph somewhere on LV-426 and all the deacon somewhere on LV-223?
ALIENS: INFILTRATOR - 2202
Aliens: Infiltrator - January 2202
LV-895 jungle planet with exotic life
Pala Station classified existence out on the edge of known systems - performing experiments with black goo (pathogen) / rat infestation
Reception - labs cental station Grand Central - beyond containment 10x10x10 glass front Broadway
--Denine - NYC Old earth history
MPDT - Micro-personal date tracker (chip)
ALIENS: FIRETEAM - 2202
Cruz / Pala Station
Micro Personal Data Tracker (MPDT) Wey-Yu sergical implants or chips for tracking.
ALIENS: AFTERMATH - 2214
Aliens: Aftermath - LV-426 35 years after

RENEGADE XM
Lela Rosewood
Cutter Vasquez (JenNette Vasquez - aunt)
Woody Ballesteros
Drake - pilot
LV-0000a
MU-TH-UR 7000 3.5 Terabyte
Extrasolar Colonisation Administration
Carter Burke
Ms. Yutani
USCM Unnamed character with chestburster?
AVP: FIRE & STONE - 2179-2219
+10/16/16 Time to re-read the entire Fire and Stone series to help update the wiki. Join me, won't you? Read in this chronological order... if you have the time, start with these films/comics...
Aliens: Fire and Stone #1 ((July 3, 2179))
Aliens: Field Report ((July 27, 2179))

Do Aliens Dream?
Aliens: Newt's Tale #2
Aliens: Colonial Marines (2012 Comic)

Aliens: Fire and Stone #2-4 ((August 8, 2179 - December 19, 2179))
Prometheus: Fire and Stone ((January 12, 2219 - January 15, 2219))
Alien vs. Predator: Fire and Stone ((January 22, 2219))
Predator: Fire and Stone ((January 23, 2219 - January 31, 2219))
Prometheus: Fire and Stone - Omega ((April 9, 2219 - April 10, 2219)) ... Next: Life and Death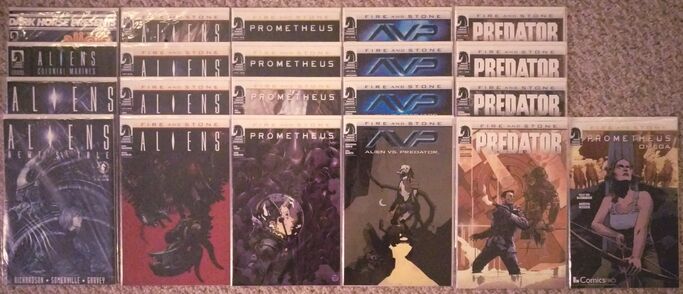 AVP: LIFE & DEATH - 2220
Here's Life and Death in long form...

+10/20/16 Creating a page for the Onager,the Geryon armada and the Hasdrubal. Help contribute by reading the Fire and Stone and Life and Death story cycles. Editing: Info, Components, History, Crew, Gallery, Vehicle Info Box.
+10/19/16 Time to add some dates to the Life and Death pages.. were only about 3/5 of the way through this series, but everything up until now seems to be concurrent without any large gaps in time. We don't have a tie-in story... yet... and we don't have a confirmed finale, but as the saying goes "If you book them, they will come." and by 'they' I mean Xenomorphs. Duh. Join me, won't you?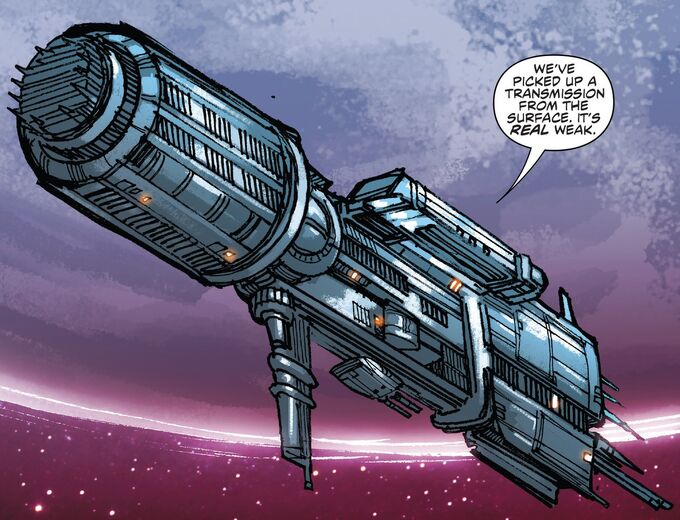 ALIENS VS. PREDATOR (Pre-Earth War)
+8/26/16 Today's Read... Aliens vs Predator: Duel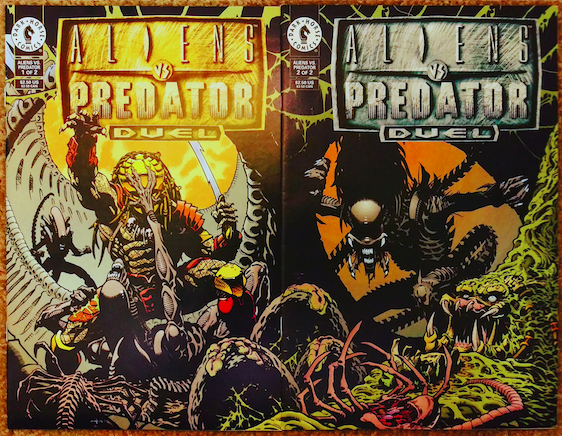 +8/20/16 Tonight's read... Aliens vs Predator #0-4 & Epilogue from DH 5th anniversary issue, AVP: Duel, Aliens: Berserker, AVP Blood Time, AVP War#0-4
AVP: WAR
Aliens vs. Predator: Hunter's Planet (Original sequel novel)
Aliens vs. Predator: War #1-4 (#0-4) (Secondary comic sequel)
ALIENS OUTBREAK - 2189
Aliens (2189) Outbreak
ALIENS NIGHMARE ASYLUM - 2190
Aliens (2190s) Nightmare Asylum

Aliens: Horror Show (2220s)
ALIENS EARTH WAR / THE ALIEN - 2190
ALIENS HIVE / STRONGHOLD - 2195+
A/P: THE DEADLIEST OF THE SPECIES
+1/3/17 Caryn Delacroix aka Ash Parnall aka RENEGADE.
+12/20/16 I've decided to create a page for Entertainment conglomerates. These conglomerates can usually be found in stories that take place during the Earth's liberation from the alien infestation, as seen in Aliens: Outbreak, Aliens: Horror Show, Aliens: Genocide, Aliens: Music of the Spears & Aliens vs. Predator: Deadliest of the Species.
+9/13/16 Today's stormy task... I re-bagged, re-boarded and reorganized my A/P/AVP Comic collection. I Decided to definitively place Aliens-Predator: The Deadliest of the Species between Aliens: Female War/The Alien and Aliens: Genocide.
ALIENS: GENOCIDE - 2209+
Aliens: Genocide (2209-2214)

Aliens: Music of the Spears (2214)

Aliens: No Exit (novel) after Earth has taken care of Alien scurge
+11/29/16 In honor of Aliens: Horror Show, I'm watching Moon (2009)
+11/17/16 Reading through issues 13-20 of Aliens Magazine to help add more information to the Aliens: Crusade page which takes place between Earth War and Genocide.
+7/19/16 Todays read... Aliens Vol.2 #1-4 (1989)
+ 5/6/16 "Hey all, I just posted an article here on Xenopedia about 'The Evolution of Television', an in-universe book mentioned in Aliens aka Aliens: Book One aka Aliens: Outbreak."
A/P 2009 (Post Earth War / Genocide)
AVP: THREE WORLD WAR
+9/15/16 Trying to cull as much information as I can about Tusked Xenomorph's from Aliens (2009 comic series) & Aliens vs. Predator: Three World War.
ALIENS ROGUE / LABYRINTH
+8/29/16 Todays read... Aliens: Hive, Aliens: Stronghold
+ 5/26/16 "Hey all, I just picked up Aliens: Defiance #2 and I have to say that even with the FCBD Extravehicular tie-in story, I'm left wanting more.. so I went back and read through some of my favorites and found an link between 3 series that we can assume is true, but as readers, don't have the evidence of in comic book form. Here is my interpretation of events and the tie-in story I'd like to see or even draw out myself some day..
Aliens: Rogue - Kleist, with Z.C.T. Corp, is trying to come up with a human/xeno hybrid in hopes of finding a way to control xenomorphs. An advancement in modern medicine and technology that the USCMC, Weyland-Yutani, Grant corporation ,and anyone else would like to get their hands on.
Aliens: Labyrinth - Church succumbs to his chest wounds after studying xenomorphs within their own hive, gathering more knowledge about the species than anyone in the universe, so the USCMC decides to give Church a bio makeover. Z.C.T. Corp is contracted to perform the rebuild in return for Church's knowledge of xenomorphs. Z.C.T. combines their work with Church's research to ultimately create the organized batch of xeno controlling Bug-Men we encounter in...
Aliens: Colonial Marines - The USCMC is out to eradicate bugs from one planet to the next. Belvieu erases Churches file, cutting all links between the USCMC, Z.C.T. Corp and the Bug-Men. Church helped Z.C.T. Corp come up with a formula that turns man into a xeno hybrid with the ability to control a xeno population, but as power consumes the host, in this case Kleist, or as we come to know him "FATHER," things go south and the hybrid run hive is destroyed.
END
ALIENS: COLONIAL MARINES
+ Operation: Aliens
+12/1/16 Trading card A1 of Operation: Aliens (comic) starts off with Lieutenant Benitez receiving a video transmission from Grant Corporation Station 13. The transcription of this video transmission opens with "Video uplink. Emergency channel. Priority Blue. Code: OP PROMETHEUS."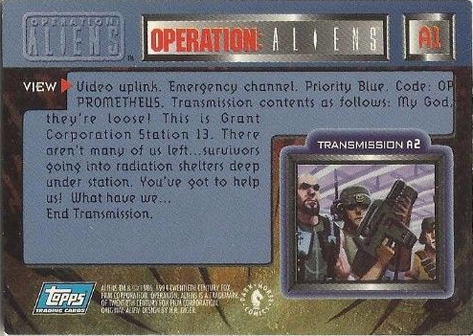 Trading card A8 of Operation: Aliens makes mention of a previous encounter the USCM had with Xenomorphs on the planet Arcturus IV, an obvious nod to Hudson's conversation with Frost and Spunkmeyer about Arcturians in the film Aliens. In reality, Arcturus is the fourth brightest star in the night sky.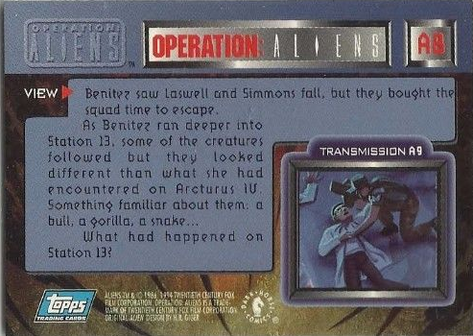 Operation: Aliens is notable as one of the few Aliens stories to depict the scientific procedure of gene-splicing to create Spliced Xenomorphs, which are bred for sole purpose of obeying their creator. Gene-splicing can also be found in Aliens: Rogue, and two Aliens crossover series; Batman/Aliens II and Predator vs. Judge Dredd vs. Aliens.
XENOGENESIS
+9/12/16 Tonights Read... AVP Eternal, Xenogenesis (Predator, Aliens, AVP)... I hate that this crossover event was so poorly received.. there is so much action and the art is a nice genre bender.. for the avp comic universe, at least. Also, chronologically, I place it between Alien 3 and Aliens Res in my comic collection.
Aliens Misc.
Series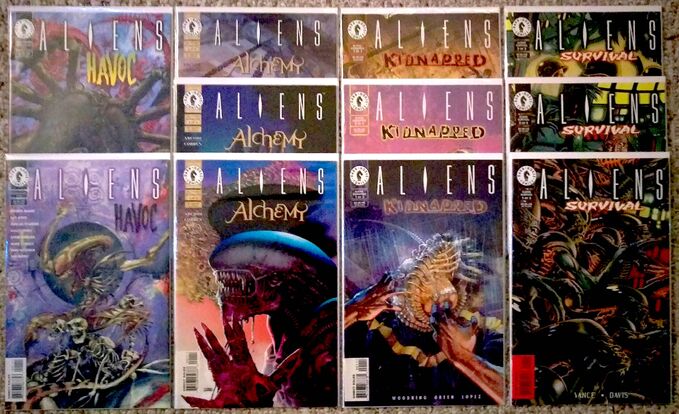 +12/8/16 Reading Aliens: Alchemy...
Sergeant Rachel Newcomen. Emerson on planet Terra.
100 years earlier...
3-31-47 17 months adrift in space in the Research-Explorer U.S.S. Emerson. Synthetic childcare supervisor Meeker aka FirstFather. Head Engineer Samuel D. Arlen.
+8/25/16 Tonight's read... Aliens: Havoc #1-2. I'll be updating some people, Gropius Lysenko, places, Lunar Maru, and things on Havoc's wikia page . Feel free to join.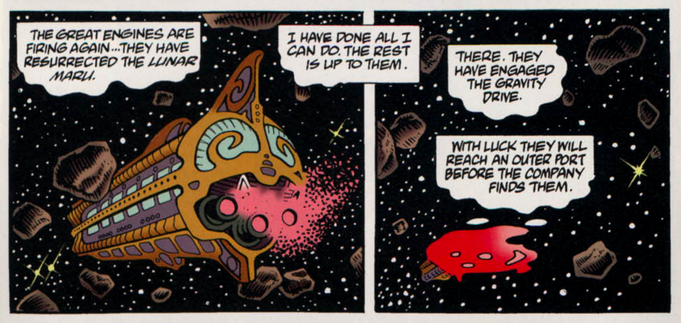 +7/18/16 HAPPY 30th BIRTHDAY, ALIENS! Todays honorary read... Aliens: Survival
+10/5/16 Just read an article about a new four-issue Aliens comic book coming out on Alien Day (4/26) 2017 called Aliens: Dead Orbit. Help contribute to the wikia!!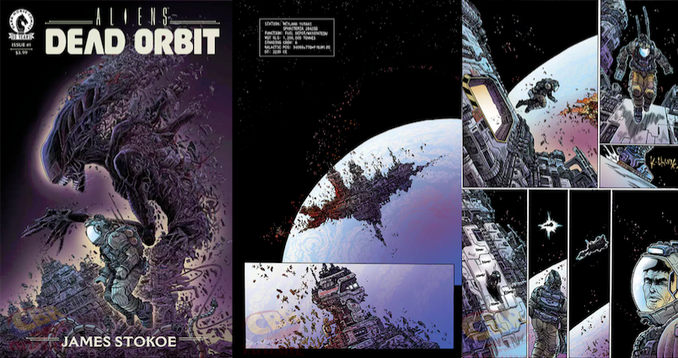 +3/24/17 This story is steeped in greek history and mythology. In regard to Aliens: Dead Orbit, and the Weyland-Yutani fuel depot/way station, the Sphacteria 284255, orbiting the gas giant U.P. Pylos in the Pelops System;
The Battle of Sphacteria was a land battle of the Peloponnesian War, fought in 425 BC between Athens and Sparta. Following the Battle of Pylos and subsequent peace negotiations, which failed, a number of Spartans were stranded on the island of Sphacteria. An Athenian force under Cleon and Demosthenes attacked and forced them to surrender.
In the fictional Stargate universe, Pelops was a Goa'uld System Lord and scientist who settled the planets Argos and Sparta. In greek mythology, Pelops was slaughtered by his father, boiled, and offered as a meal to the gods, who having discovered this disgusting circumstance, brought him to life again. 
Sphacteria Crew: Captain Hassan, Wascylewski, +comms officer & 3 others
One Shots
DHC / DHP Short Stories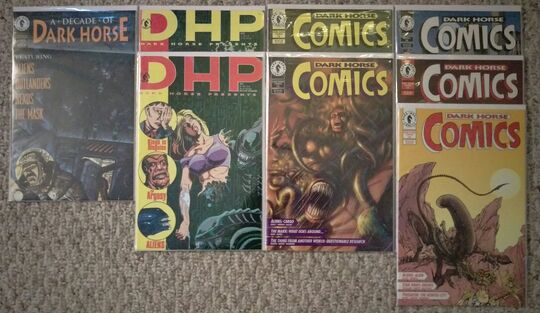 +10/10/16 Currently watching episodes 1 and 2 of WESTWORLD, the tv series and Reading Aliens: Tourist Season.
Graphic Novels

Misc. Novels
Aliens: Steel Egg (pre-Alien)
Aliens: Criminal Enterprise (Grant Corporation)
Aliens: No Exit (post-Earth War?)
Aliens: Original Sin (post-Resurrection)
Children's Books
Reference Books
Art Books
+ 2/27/20 - Alien: Prototype is hands-down my new favorite Alien novel! An abandoned V-22 will be a perfect setting for my next round of Alien: The Roleplaying Game.. I mean.. look at this thing!!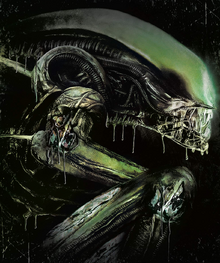 ALIEN 3 - 2179
Alien 3 (Comic)

Space Beast (insert from Alien: The Weyland-Yutani Report)
Alien 3: Alone (9 Trading Cards)

William Gibson's Alien 3 William Gibson's unproduced original screenplay
SPACE BEAST (in universe book)
06/05/17 My copy of Space Beast by Robert Morse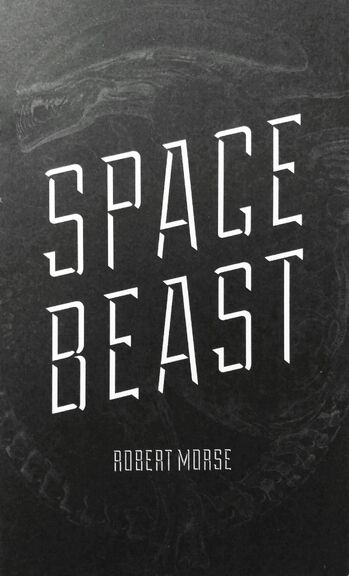 ALIEN: THE ROLEPLAYING GAME - 2183
ALIEN 3: ALONE
12/5/16 Along with Operation: Aliens (comic), Alien 3: Alone is another trading card set that hold a short comic style story, comprised of card #71-79. Here they are together as a set along with the Alien 3 comic book adaptation advert. Cards #1-39 also tell the story of Alien 3 through dialog written from Ripley's perspective.
ALIEN 3: TERMINAL ADDICTION
+3/22/17 Alien 3: Terminal Addiction is a two part comic strip video game advertisement. The first comic shows a boy playing Alien 3 on his SNES and the second comic shows a boy playing Alien 3 on his Game Boy, circa 1993...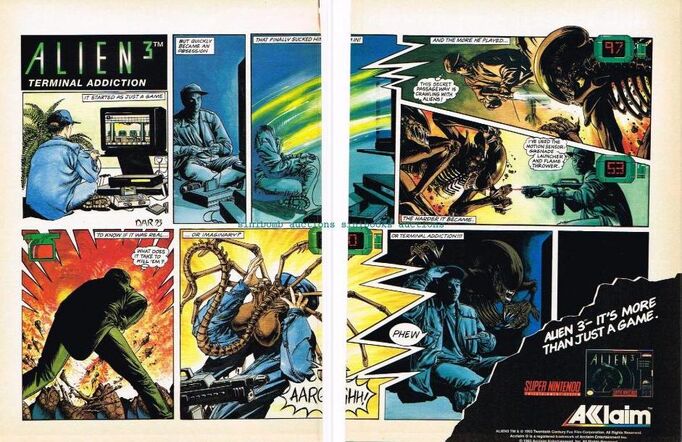 SNES (above) & Game Boy (below) Alien 3: Terminal Addiction ad
WILLIAM GIBSON'S ALIEN 3 - 2183
+ 5/7/18 Whoa!! Dark Horse vision for WIlliam GIbson's Alien 3!
+2/24/21 Whoa!! Titan Books adaptation for William GIbson's Alien 3!
ALIENS: FIRETEAM - 2202
ALIEN RESURRECTION - 2381
ORIGINAL SIN / ALIENS vs PREDATOR vs THE TERMINATOR
+8/23/16 Tonight's read... AVP: Thrill of the Hunt / Civilized Beasts, Alien Resurrection, Aliens versus Predator versus The Terminator.
+4/18/17 Anyone ever notice the resemblance between the crew of the Betty and the crew of the Serenity??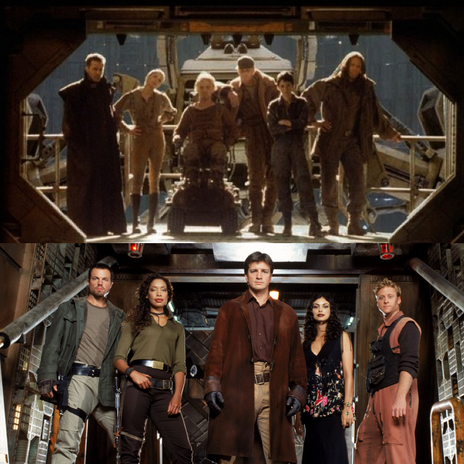 +6/18/16 "Hey all, for those of you who like Alien Resurrection or for those of you looking for a reason to, you should read ALIENS versus PREDATOR versus THE TERMINATOR, it's a continuation of Call and Ripley 8's story after landing on Earth in the 24th Century.
ALIEN: SEA OF SORROWS - 2400
ALIENS: PHALANX ~ 2514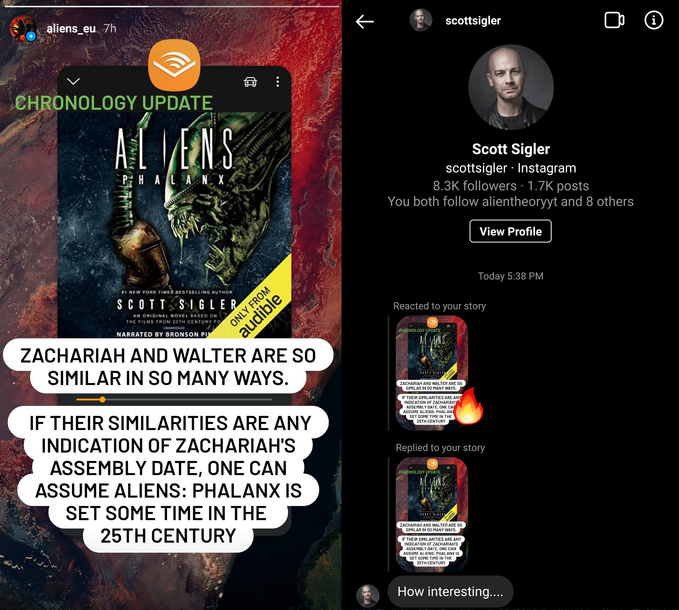 The Captain's Bell - 2092 - over 400 years old places Cauldron in 2500s / 26th century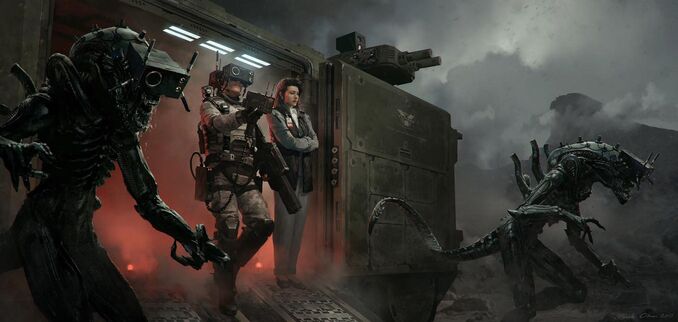 OMNIBUS
CROSSOVERS
JLA / AVP
JUDGE DREDD / AVP
Judge Dredd vs. Predator [1,2,3]
Judge Dredd versus Aliens: Incubus [1,2,3,4]
WITCHBLADE / DARKNESS / AVP
VAMPIRELLA / ALIENS
Aliens/Vampirella [1,2,3,4,5,6]
BUFFY / ALIENS
PREDATOR
+12/10/16 Creating pages for Archbishop Emoji, Dr. Reinstöt and the Ani-Men from Predator vs. Judge Dredd vs. Aliens: Splice and Dice.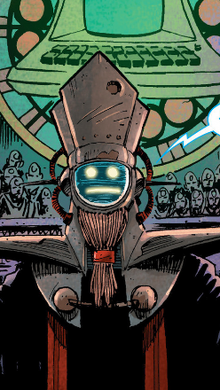 +12/7/16 Reading Witchblade/Aliens/Darkness/Predator: Mindhunter and editing pages for Sister Midnight and DarkAlien.
+10/28/16 Came across an article for a new Aliens crossover comic in 2017. I just love crossover series. Star Trek: TNG /ALIENS[1] called 'Acceptable Losses' published by IDW & Dark Horse
+9/8/16 Tonights Read... RoboCop versus The Terminator
+9/2/16 I forgot how incredibly detailed the artwork for Predator versus Judge Dredd is.. Tonight's read: Predator versus Judge Dredd 1-3, Judge Dredd versus Aliens: Incubus 1-4, Predator vs Judge Dredd vs Aliens 1 & 2. The trilogy is almost complete.. just wating on 3 & 4.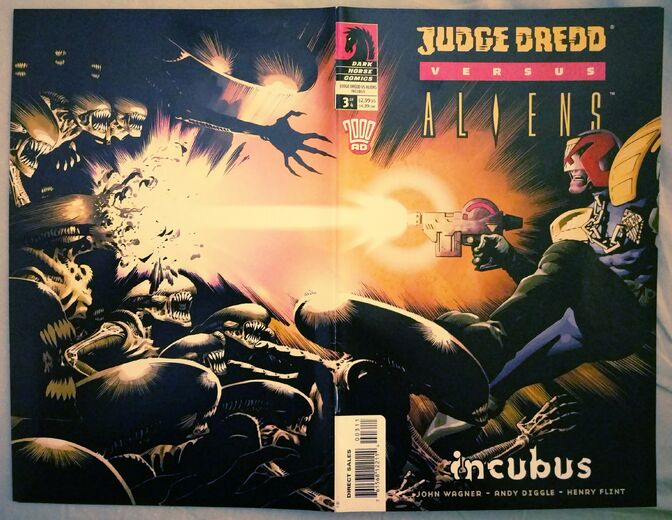 +8/31/16 Todays Read... Batman versus Predator III 1-4
+6/29/16 "Hey all, currently reading Aliens: Incubation, Batman vs Aliens, & Batman vs Aliens II.
+6/27/16 "Hey all, just finished rewatching AVP Requiem and I gotta say.. Predalien always keeps me captivated. If you can get through the painful character development in the first half of the film, the second action packed half really pays off!"
+6/23/16 "Hey all, currently reading Buffy The Vampire Slayer/Guild FCBD '12.. Buffy takes a spacecation and has a run in with some pretty angry BUGS! ..IN SPACE NO ONE CAN HEAR YOU SLAY!"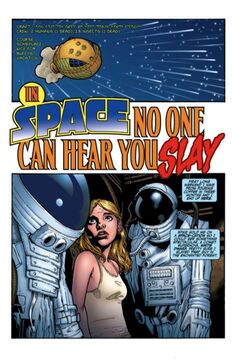 +5/28/16 "Also read through ALIENS/VAMPIRELLA 6 issue series.. it was fun and exciting! LLAARRSS!!!!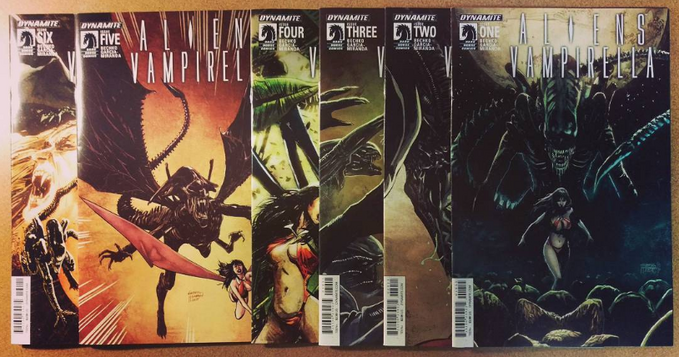 +5/14/17 ALIEN: COVENANT - RICK & MORTY
FIREFLY / SERENITY
FIREFLY (TV Show)

Serenity: Those Left Behind
Serenity: Better Days
Serenity: The Shepherd's Tale
Firefly (Boom Studios 2019)
SERENITY (Film)

Serenity: Float Out
Serenity FCBD It's Never Easy
Serenity: Leaves on the Wind
Serenity FCBD '16
Serenity: No Power in the 'Verse
+11/18/16 Reading Serenity: No Power In the 'Verse #1
+ 5/8/16 "Hey all, I just picked up a copy of Free Comic Book Day 2016: Serenity. It includes a short story called Aliens: Defiance - Extravehicular a peek into the world of Aliens: Defiance. Go grab yourself a copy and help contribute to the wikia."
Also, speaking of Serenity, here's a shot from FIREFLY Episode 1.. WEY-YU / UA 571-D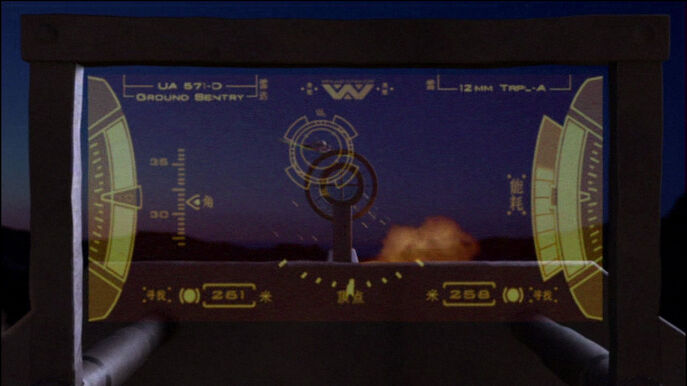 Aliens inspired film, tv, comics
+01/01/17 Starting the year off with an odd crossover/homage I came across recently...
DEADPOOL 23... On a Hellcarrier, no one can hear you scream!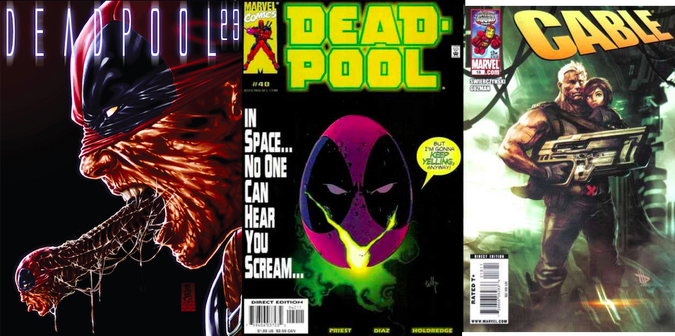 +9/3/16 Todays Stormy Adventure... GALAXY OF TERROR
+8/31/16 Tonights stormy adventure.. IT! The Terror from Beyond Space
+8/27/16 Just read a fun AvPvTMNT fan fiction based in a dream that you can read about here, and I couldn't help but rehash over this oldie.. TMNT 1988 S2E6 'The Case of the Killer Pizzas'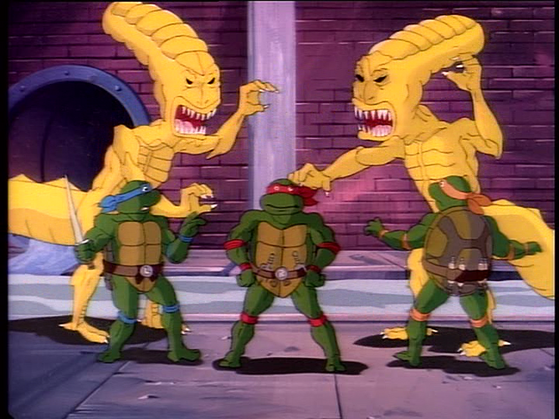 +8/4/16 Todays Read... Roche Limit, Clandestiny & Monadic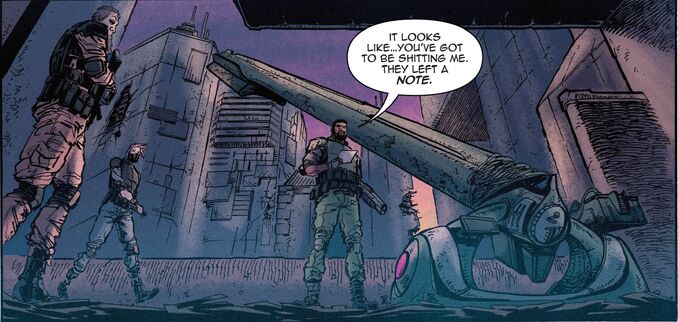 +7/29/16 Todays stormy adventure... The Martian
+7/7/16 Tonight's Stormy Adventure: MOON 44
+7/4/16 Todays reading The Terminator: Secondary Objectives
+5/23/26 Todays Stormy Adventure: The Rig (2010) little tid bit here...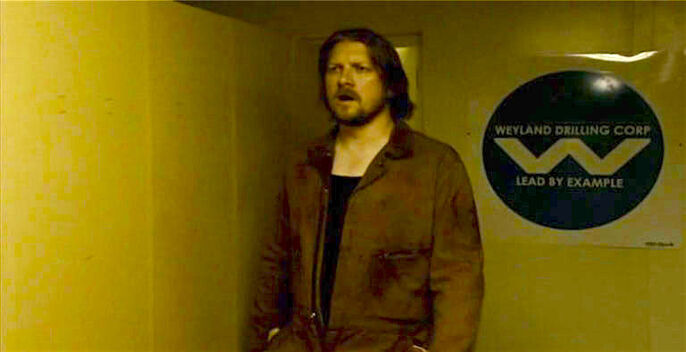 + 6/10/16 Tonight's Stormy Adventure: Double Feature
Almost Human (2013) & POD (2015)
+ 5/20/16 "Hey all, watching an Aliens themed double feature today.. Terror in Space aka Planet of the Vampires (1965) & Creature (1985)."
+ 6/6/16 Tonight's Stormy Adventure:
INFINI (2015) 2 hours later ...It was good. It was like Event Horizon x Solaris
+ 6/5/16 Today's Stormy Adventure:
Galaxy of Terror aka Mind Warp: An Infinity of Terror (1981) ...uses the set from Alien
+6/8/16 XENO: WARRIOR PRINCESS ... can't believe this isn't a thing yet, so here you go.
ALIEN DAY
+4/26/17 Alien Day!!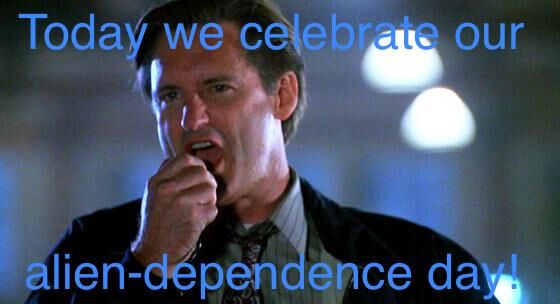 +4/26/18 Alien Day!!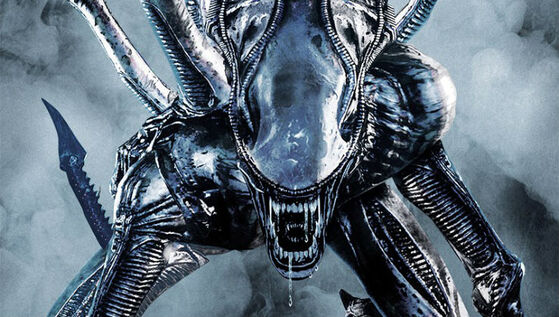 +4/26/19 Alien Day!!
Earned Barnstars
The Literature Barnstar
For continued work improving comic book pages.-- LEIGH BURNE(Talk) 09:43, October 12, 2016 (UTC)

+10/17/16 THANKS FOR THE LITERATURE BARNSTAR, LEIGH BURNE!
The Tireless Contributor Barnstar
For continued good work improving the wiki (and routinely beating me to things that need updating :P ) Keep it up!-- LEIGH BURNE(Talk) 18:33, June 8, 2017 (UTC)