Trident Comics was a British comic book publishing company owned by parent company Neptune Distribution, based in Leicester, England. It was founded in 1989 by Geoff Fry.[1] Trident published most of the first volume of Aliens magazine in the United Kingdom, working under license with Dark Horse Comics.
Trident's Aliens magazine featured reprints of material from Dark Horse's Aliens, Predator and Aliens vs. Predator lines. Outside of Aliens magazine, Trident specialized in black and white comics created by established and new British talent. The company went bankrupt in 1992, along with Neptune Distribution.
History
Origins
Trident Comics was formed in 1989 as an offshoot of Neptune Distribution, a comic book distribution company established in Leicester in 1986 by Geoff Fry with the intention of challenging Titan Distribution's monopoly on the UK comic distribution market.[2] Neptune proved to be a huge success, thanks largely to the fact it was able to import its comics and get them into shops faster than Titan. In 1989 the company expanded into publishing with Trident Comics.
Trident's aim was to provide creator-owned opportunities not just for established comics figures such as Neil Gaiman, Eddie Campbell and Grant Morrison, but new talent such as Mark Millar, Paul Grist and Dominic Regan. Trident Comics's main editor was Martin Skidmore, a British comic fan who had been previously best known for editing the fan-magazine Fantasy Advertiser, publication of which was taken over by Trident when Skidmore joined the company.
Releases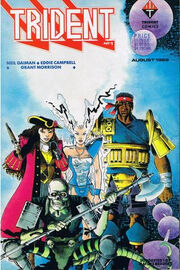 Trident's first release in early 1989 was the Trident Sampler, a 32 page free sampler issue featuring previews from forthcoming titles. This was followed shortly afterward by Trident #1. Trident was an anthology title, and its first issue featured work such as Eddie Campbell's Bacchus (republished by Dark Horse Comics in America), Neil Gaiman and Nigel Kitching's The Light Brigade, and Grant Morrison and Paul Grist's St. Swithin's Day.[3] Trident became the company's flagship title and attempted to publish new talent as well as established talent such as Gaiman and Morrison. Other launch titles included Saviour by Mark Millar and Saga of the Man Elf by Michael Moorcock.[3]
Trident later established its own subsidiary, Apocalypse Ltd., through which the company began publishing Toxic!, a weekly anthology title meant to compete with 2000 AD, then being published by Fleetway Comics. Trident also secured the rights to reprint Dark Horse Comics material in the UK, including their Aliens, Predator, Aliens vs. Predator, RoboCop and The Terminator lines. This deal led to the creation of the monthly Aliens magazine, along with a similar title for The Terminator. Trident also planned to run a Predator magazine, beginning with a reprint of the comic book adaptation Predator 2, but this never saw publication before the company folded.[4]
Collapse
Although Trident's flagship title Toxic! initially proved popular, sales flagged when issues shipped late and the quality of the publication dropped thanks to the departure of several key staff members, largely as a result of company head Geoff Fry's combative attitude, anger management problems and marital infidelity.[5] Toxic! ended in 1992 after 31 issues and financial troubles caused Trident Comics to go bankrupt not long afterwards. Neptune Distribution was subsequently sold to Diamond Comic Distributors.[5]
The collapse of Trident Comics led Dark Horse to take over publication of Aliens magazine itself, via its newly-established UK subsidiary Dark Horse International. While the venture lasted for a further two years, it also eventually closed down due to financial difficulties amidst the comic book slump of the mid-1990s.
The rights to republish Dark Horse material in the UK have since passed to Titan Comics (unrelated to Titan Distribution, who were also bought out by Diamond Comic Distributors, ironically returning the UK comic distribution market to the monopoly that Neptune was first established to break[5]). Titan has focused primarily on reprint trade paperbacks, although they briefly published an Aliens magazine of their own in the late 90s.
Publications
Trident Comics titles include:[6][7][3]
Trident (Aug 1989-Oct 1990)
The Saviour (Dec 1989-Jan 1991)
Freddy's Nightmares (Feb-May 1990)
St. Swithin's Day (Apr 1990)
The Shadowmen (May-Sept 1990)
Lucifer (Jul-Sept 1990)
Strand (Nov 1990)
Burglar Bill (Dec 1990)
Aliens (Feb 1991-May 1992)
Toxic! (Mar-Oct 1991)
The Terminator (Aug 1991-Jul 1992)
Indiana Jones (Oct-Dec 1991)
The Bug Hunters
Fantasy Advertiser
Greenhouse Warriors
The Light Brigade
Marshal Law
Morningstar
Norman Spittall
RoboCop
Saga of the Man-Elf
Sex Warrior
Both the Aliens and The Terminator magazines produced by Trident were later taken over by Dark Horse International.[4]
References
Community content is available under
CC-BY-SA
unless otherwise noted.