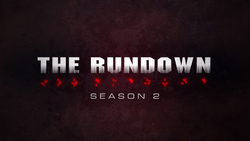 The Rundown is a 2017 behind the scenes web series devoted to the Predator franchise, presented by B. Dave Walters and Tory Mell, known on the show by their aliases HunterDave and HunterTory. It is available through the Predator Official Fan App, with episodes also posted on the official website for the 2018 film The Predator.
Two seasons of the series have been produced.
Overview
The web series consists of two- to five-minute episodes looking at various aspects of the Predator franchise, including behind the scenes info from the films and news and reviews of contemporary Predator releases. Many episodes feature a "Fan of the Week" segment that focuses on a member of the Predator fan community, discussing how they became a fan of the franchise. Season 1 also included a regular "In the App" segment, which highlighted various features of the Predator Official Fan App, although this was dropped for season 2.
Episodes
Pilot
| Episode | Summary |
| --- | --- |
| Pilot | Dave & Tory celebrate the 30th anniversary of the original Predator and discuss Jean-Claude Van Damme's casting in the film. |
Season 1
| Episode | Summary |
| --- | --- |
| Episode 1 | Dave & Tory review the Predator 30th Anniversary comic collection and look at the Plasma Caster prop wielded by Laurence Fishburne in Predators. The In the App segment takes a look at Predator emojis. |
| Episode 2 | Dave & Tory look at the new Eaglemoss City Hunter Predator figurine and a Predator Wrist Gauntlet from Predators. The In the App segment takes a look at the app's soundbites feature. |
| Episode 3 | Dave & Tory look at the Predator in Ghost Recon Wildlands and discuss the Yautja Wristblade. |
| Episode 4 | Dave & Tory discuss Kevin Peter Hall's role as the Jungle Hunter and reveal a mystery prop from Predators, asking viewers to try and identify it. The In the App segment takes a look at Predator stickers. |
| Episode 5 | Dave & Tory discuss the career of Jesse Ventura, who played Blain in Predator, and subject each other to a Predator trivia Q & A. |
| Episode 6 | In a special episode, Dave & Tory go on location at WonderCon 2018, where they meet Predator fans and cosplayers. |
Season 2
| Episode | Summary |
| --- | --- |
| Episode 1 | Dave & Tory discuss the upcoming film The Predator, interview Bill Duke, who played Mac in Predator, and look at Royce's ammunition vest from Predators. |
| Episode 2 | Dave & Tory show a behind the scenes clip of Olivia Munn in The Predator, and look at the new Eaglemoss MEGA Predator statuette and the katana used by Louis Ozawa Changchien in Predators. |
| Shane Black Interview | In a special episode, Dave & Tory interview The Predator director Shane Black at San Diego Comic-Con. They also give fans a chance to win NECA Hawkins figures signed by Black. |
| Episode 3 | In a special episode, Dave & Tory go on location at San Diego Comic-Con where they interview The Predator actors Jake Busey, Olivia Munn, Keegan-Michael Key, Sterling K. Brown and Thomas Jane, and challenge fans with trivia questions. |
| Episode 4 | Dave & Tory show behind the scenes clips of Shane Black working on The Predator, interview NECA employee Randy Falk, and discuss the difficulties experienced by the Predator film crew when trying to film in thermal vision. They also give fans a chance to win copies of the Predator: Hunters trade paperback. |
| Episode 5 | Dave & Tory take a look inside the Fugitive Predator's ship from The Predator, interview Dark Horse Comics vice president Randy Stradley, and announce the winners of the competition in episode 4. The episode also includes more of the show's interview with Shane Black. |
| Episode 6 | In a special episode, Dave & Tory walk the red carpet at the premiere of The Predator, interviewing director Shane Black, writer Fred Dekker, and actors Jake Busey, Olivia Munn, Augusto Aguilera, Boyd Holbrook and Sterling K. Brown, as well as fans who won invites to the premiere. |
| Episode 7 | Dave & Tory take a look at Cuchillo's MP5k sub-machine gun props from Predators, the book The Predator: The Art and Making of the Film, and a copy of the original Predator script, titled Hunter. They also interview a family of Predator cosplayers. |
Gallery
External Link