The sword is a weapon occasionally carried and used by Yautja. Though rarely mentioned as an in-hunt-use weapon, a sword can be fashioned as a replacement or equivalent to a hunter's wrist blades. In example, if a hunter desired to design a sword on the spot, they could redesign their maul into an effective cleaver sword, seeing as how the blade is 5 1/2 feet long. Yautja are a creative and resourceful species, a sword would pose no challenge for them to construct.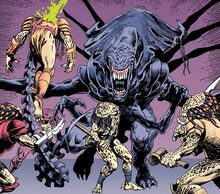 Yautja weapons
Blunt instruments
Short bladed mêlée weapons
Long bladed mêlée weapons
Pole arms
Flexible bladed mêlée weapons
Thrown weapons
Projectile weapons
Directed energy weapons
Placed explosives
Thrown explosives
Mobile sentry guns
Related articles
Community content is available under
CC-BY-SA
unless otherwise noted.