She-Hulk Trailer Dropped - The Loop
Play Sound
"Is that damage?"
"It looks like damage."

This article, or a section of this article, does not meet Xenopedia's standards. Please help by improving the page.


Super Predators, also known as Berserker Yautja[1] are a subspecies of the Yautja race. They are essentially a larger, stronger version of the Jungle Hunter Predators. 
Biology and Physical Abilities
They are larger than mainstream Predators (in terms of muscularity) but still stand at around 7 feet tall (or more) like the "normal" Predators. They have a more reptilian appearance than their better-known cousins and have scaly skin in addition to different color pigmentation. Another feature is their dreadlocks, which are far more swept back than those found on "normal" Yautja. They also possess a longer face, giving them a small "snout" and more reptilian looking in effect. It is unknown if they are truly stronger than other Predators, as the only fight showed was between Berserker and the weakened and poorly conditioned Jungle Hunter. Also, a Super Predator's trill is much deeper and far more beast-like/feral than the trill of commonly seen Predators.
Hunting Culture, Clothing, Armor and Technology
Berserker, Falconer, and Tracker appear to be in a blood feud with the smaller Jungle Hunter Yautja. However, they use the same technology as the Jungle Hunters, only some of it appears to be more advanced.
They do differ in various ways in terms of culture; the first difference is they only have a single Wristblade on their wrist gauntlets, they also use a Gatling gun type of Plasmacaster. They also have tighter armor, being less metal and more leather in appearance. The Falconer Super Predator was also shown using a Predator Falcon to track his prey. So far the Super Predators are the only Yautja known to use Predator Falcons, but it is likely they are not the only users of this device. Like most Yautja, the Super Predators use bio-helmets boasting unique appearances, however, these bio-helmets have a new vision mode allowing the Super Predators to detect the pulse of prey. This unique vision mode has not been seen being used by any Yautja other than the Super Predators. The Super Predators are also seen using Vocal Mimicry, a Remote Detonator, and Cloaks.
When hunting, they use traps, preferring to induce fear and panic into their prey in an attempt to make them run. Another feature is that they (unlike their cousins) have no qualms about killing an unarmed or injured/crippled enemy. Super Predators have also been seen to use Hell-Hounds for "flushing out" their prey.
They appear to value Trophies and large numbers of kills rather than honor in the Hunt or in the individual kill. It is said that they are constantly trying to improve themselves to become better killers, and that is why they use the most dangerous of prey in order to improve their technology and tactics.
The Super Predators share a similar characteristic with the Killer Yautjas as they also captured and controlled Xenomorphs for their own use.
History
Conflict with Rival Clan
The Super Predator Clan is in some sort of war with the Jungle Hunter Clan for an unknown reason. Noland described it as a blood feud that had apparently been going on for some time.
List of Known Super Predators
Trivia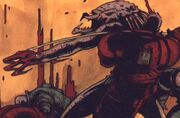 Appearances
Gallery
References