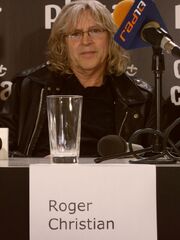 Roger Christian (born February 25, 1944)[2] is an Academy Award-nominated English set decorator, production designer and feature film director who served as art director on the 1979 film Alien. Other notable films Christian has worked on include Star Wars Episode IV: A New Hope (1977), Star Wars Episode VI: Return of the Jedi (1983), Nostradamus (1994), Star Wars Episode I: The Phantom Menace (1999) and Battlefield Earth (2000).
For his work on Alien, Christian was nominated for an Academy Award for Best Art Direction (shared with Michael Seymour, Les Dilley and Ian Whittaker).
Work
Alien
Main article: Alien (film)
After Christian finished his work on Star Wars, he went on to art direct Monty Python's Life of Brian. In its first incarnation, however, the film was cancelled, allowing him to segue neatly on to Alien. Director Ridley Scott and production designer Michael Seymour had already decided to try Christian's technique of using scrap material to detail the interior of the Nostromo, but the process had proved more difficult than they'd anticipated.[3]
"They'd tried it a little bit, and I could see it hadn't worked," Christian recalled. "So we went round England buying scrap aeroplanes and breaking them down. It cost £50 for half an aeroplane, because it was sold by weight and aeroplanes are very light. I trained the prop boys in the technique of using the scrap, because you can't just randomly do it — in a real aeroplane or a submarine, everything is in order and has a function. We painted everything army green, and I used aging techniques that John Box had taught me when I was tea boy for him on Oliver!, aging down the pipes, adding oil and drips and little graphic symbols. And that became the look of the Alien interiors."[3]
The interior sets were built as a complete unit, with every part interconnecting. "You walked in, and you were inside the Nostromo. You followed the corridors round and came to each set in turn. I loved watching people's reactions when they came to visit. The bridge set was massive — an amazing set. It took months to put everything into it. I wanted it so that, every time one of the crew flicked a switch, a light would come on, or something would react."[3]
Aside from his work on sets, Christian also designed the flamethrowers and pistols used by the crew of the Nostromo (the latter only ever seen holstered in the theatrical cut of the film).[4]
Christian speaks with great pride about his work on Scott's seminal science fiction horror film. "I think we got it right on Alien," he asserts. "The dressing, the guns, the props – everything fused together. I think the audience accepted that we'd gone out and found a spaceship, rented it and filmed inside it, and that it was old and battered and used."[3]
External links
References