Wiki Targeted (Entertainment)
Play Sound
Private First Class Ricco Frost,[1] nicknamed "Frosty"[3] or the "Zen Master"[1] owing to his cool attitude, was a member of the United States Colonial Marine Corps, part of 2nd Battalion Bravo Team.[5] He was a member of the combat unit deployed to LV-426 aboard the USS Sulaco in 2179, to investigate the sudden loss of contact with the colony of Hadley's Hope. He subsequently perished as a result of the Xenomorph infestation at the colony.
Frost was part of Second Squad's rifle team, along with Corporal Dietrich,[3] and was also a skilled martial artist, holding a first-degree black belt in the Marine Corps Martial Arts Program.[1] He was killed by friendly fire inside the Hive when Dietrich accidentally set him alight with her flamethrower.
Biography
Mission to LV-426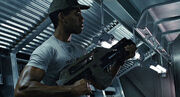 Frost spent breakfast aboard the Sulaco reminiscing about past operations with his fellow Marines, particularly one deployment when the group engaged in relations with a group of Arcturians; unfortunately for Frost, the one he ended up with was male. Before being briefed on the mission by Lieutenant Gorman, Frost and Corporal Dietrich took the time to practice their hand-to-hand combat skills. After the briefing, Frost readied and checked the team's Pulse Rifles.
Once on the ground, Frost and the rest of Second Squad cleared the upper floors of the central administration building. It was Frost who picked up Newt on the squad's motion tracker, handed to him while Cpl. Hicks was investigating the live Facehugger specimens found in the med lab. When the colonists were traced, via their PDTs, to the nearby Atmosphere Processing Plant, Frost was given the duty of driving the section's APC as Bishop was busy studying the Facehugger specimens in the medical center.
Processor ambush
Once inside the Atmosphere Processor, the Marines stumbled into the Xenomorph Hive, Frost pointing out the oppressive heat present. Shortly after, the squad was informed by Gorman that they couldn't risk using their Pulse Rifles or Smartguns, and ordered all ammunition for the former confiscated. Frost's anger at having the section's primary source of firepower taken away was compounded when he was given the unenviable duty of carrying the caseless Pulse Rifle rounds.
When the Marines discovered the dead colonists and witnessed Mary succumb to the Chestburster within her, Sergeant Apone requisitioned Frost's flamethrower to assist Dietrich in torching the creature before it could escape, while Frost immediately unholstered his VP70. The dying Chestburster's screeches woke the Hive, and the Marines soon found themselves surrounded by advancing Drones. Almost immediately, Dietrich was ambushed from behind and dragged away. Alerted by her screams, Frost raised his sidearm to try and kill the creature responsible, but before he could fire a single shot Dietrich accidentally ignited him with her Incinerator. Completely aflame and in a blind panic, Frost's flailing caused him to tumble over a railing within the Hive, plummeting to his death several floors below. The bag containing the confiscated Pulse Rifle magazines was dropped in the chaos and subsequently exploded after it too was set aflame, the blast killing Private Crowe and injuring Private Wierzbowski, who was then attacked by a Drone and either captured or killed.
Personality and Traits
As with many of the other troops, Frost had a degree of disdain for his job, often complaining that he hated being a Marine. He also seemed to be something of a pessimist, condemning the mission to Hadley's Hope as a disaster before the Marines had even landed on the ground (something he apparently did on every combat drop). For better or worse, Frost was quick to question orders or information he considered suspect, such as when Gorman used the nondescript term "Xenomorph" to describe what the Marines may be facing at Hadley's Hope, or when the Lieutenant ordered the unit to disarm itself within the Hive.
However, despite these traits, Frost was a natural joker, always quick to make light of serious situations with a wisecrack. As such, he could be seen as the resident funny man of the squad, alongside Hudson. Judging by his nickname—Frosty—and his nonchalant attitude when he detected the movement that turned out to be Newt, he also possessed the ability to remain composed in tense situations.
Equipment
Frost was outfitted with standard issue M3 Pattern Personal Armor and an M10 Pattern Ballistic Helmet for protection, and a TNR Shoulder Lamp attachment for illumination. His armor's chest plate featured a white heart emblazoned with the name Heath (short for Heather) being pierced by an arrow[6][7] and his armor's left shoulder was customized with a sticker or piece of tape with "When in doubt, "NUKE EM"" written in red.[6] He also wore a watch on his left wrist.
On LV-426, Frost was armed with an M240 Incinerator Unit, although this was requisitioned by Sergeant Apone inside the Hive, leaving Frost with only his Heckler & Koch VP70 for defense, which he kept in a fabric holster on his right hip.[8][9] Frost also briefly used Hicks' M314 Motion Tracker and qualified to drive the M577 Armored Personnel Carrier.
Trivia
Frost actor Ricco Ross originally read for the part of Corporal Hicks. He was then offered the role of Private Drake, but he turned it down in favor of appearing in Stanley Kubrick's Full Metal Jacket.[10] However, James Cameron was so impressed with Ross' audition that he wrote the character of Frost specifically for him, and as a result Ross left Kubrick's production to appear in Aliens.[10]
In a 2014 interview for the podcast "I Was There Too", Ross stated that Frost's first name is actually Robert.[11] Ross went on to explain that the Marines in Aliens used the first letter of their actor's names, but not their actual first names, in contrast to what is established in sources such as the pre-order bonus skins and collectible dog tags in Aliens: Colonial Marines. Later sources such as Alien: The Weyland-Yutani Report would cement the use of the actors' first names for their characters in official canon.
Ross was set to reunite with Aliens co-star Carrie Henn in the Alien fan film Alien Identity in 2015. However, 20th Century Fox sent a cease and desist order to Sonnet Realm Films, the producers of the movie.
Ross also mentioned that director James Cameron named his character Frost as he thought it would be ironic given that he is set on fire with a flamethrower.[11]
"Frosty" shares his nickname with another character in the Alien franchise — Corporal Andrew "Frosty" Harrison from Aliens versus Predator 2.
Frost's Flamethrower appears in the video game Aliens: Colonial Marines as a "Legendary Weapon".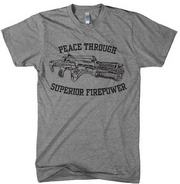 Appearances
Non-canon
Retconned appearances
Gallery
References
Community content is available under
CC-BY-SA
unless otherwise noted.