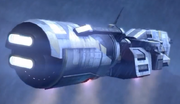 The Resolute[1] was a faster-than-light ship privately-owned by the Weyland-Yutani Corporation's Science Division. It was dispatched to Acheron (LV-426) in 2179 following the rediscovery of the derelict ship, and was the staging point from which the Origin Facility was set up. It was subsequently discovered by the Weyland Yutani Shinyo Maru when it arrived at Origin Facility on Sept 14th 2179.
From the Aliens: Colonial Marines Technical Manual:
EXTRACTION TEAM (Shinyo Maru) ON STATION EFFECTIVE SEP 132130. OBJECTIVE 2,000 METERS NE. WILL EXPEDITE. CAMLAC 2 OUTFIRE REPORTS FRIENDS PRESENT IN FORCE. REPEAT, IN FORCE. REQUEST WEAPONS FREE. STANDBY.
"The Shinyo Maru confirms, sir. Science Division are on-site at the derelict. Tanaka wants orders. Should he arrange an accident?"
"Not yet. Tell him to keep his powder dry. First I need to negotiate with Trudeau on a secure line. If he's smart, he won't try and muscle us out of the bonus share."
Appearances
Gallery
References
↑ Stasis Interrupted (2013), Gearbox Software, SEGA [Microsoft Windows, PlayStation 3, Xbox 360].
Community content is available under
CC-BY-SA
unless otherwise noted.