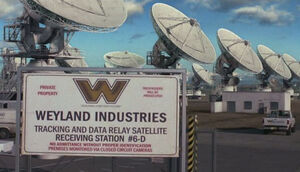 Receiving Station #6-D was a Weyland Industries satellite tracking station located in Silver Leaf, Nebraska.
History
On October 3, 2004, Weyland Industries Satellite PS12 detected a mysterious heat bloom beneath Bouvet Island, in the Antarctic, and transmitted this data to Station #6-D. There it was received by Fin Ullbeck and his supervisor Dr. Langer, who subsequently alerted their superiors of the discovery and thereby set in motion Charles Bishop Weyland's expedition to Bouvet to investigate.
Appearances
Community content is available under
CC-BY-SA
unless otherwise noted.