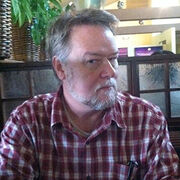 Randy Stradley is a comic book writer and editor and Vice President of Dark Horse Comics who has worked on numerous comic books in Dark Horse's Aliens, Predator, Aliens vs. Predator and Prometheus lines; Stradley is notable for having written many of the influential early Aliens vs. Predator comics series that helped make the crossover concept so popular. As well as writing, Stradley has severed as editor on dozens of comic stories for all three lines over the years.
Biography
Stradley has been with Dark Horse Comics since its inception by publisher Mike Richardson and now serves as Vice President and Chief Creative Officer at the company, He has for the past number of years served as main editor of the company's flagship Star Wars comics line.
In 2010, Stradley returned to the world of Aliens vs. Predator in a big way by serving as writer of the new series Aliens vs. Predator: Three World War.
Credits
Writer
Aliens
Predator
Aliens vs. Predator
Editor
Aliens
Predator
Aliens vs. Predator
Prometheus
Trivia