"Is that damage?"
"It looks like damage."

This article, or a section of this article, does not meet Xenopedia's standards. Please help by improving the page.

Prosperity Wells was a human ranching colony that was established on Ryushi.[1] The settlement financed by the Chigusa Corporation, and maintained a constant population of around 100 colonists.[2] The colony was devastated when a group of young Yautja led be Dachande seeded the planet with Xenomorphs for a Hunt, the resultant conflict killing most of its inhabitants.
Overview
Prosperity Wells was constructed with an array of prefabricated modules. The main operations building was located at the center of the town and the north lock lead to a garage and heavy equipment depot. Behind the main ops building was located the water treatment plant and power plant. Right in front of the west lock was located the shopping mall Little Earth, the medical center, the helipad and the quarantine holds. At the south was located the school and beyond that was located the landing pad, contention walls and the main loading gates. In the north end of the town were the holding pens.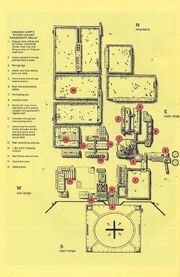 Wells was the center of operations for various private cattle company subsidiaries of the
Chigusa Corporation
, such as Flying A. The Chigusa company office, mess hall and employer's rooms were all located in the main operations building. Prosperity Wells was located on a prairie south of the mountains and east of Iwa Gorge. There were some ranches not far away such as the Sheldon's ranch, which was located near Iwa Gorge.
At the time of its destruction the colony was managed by Hiroki Shimura, and after by Machiko Noguchi.
History
Prosperity Wells was established circa the 2100s by Chigusa in order to raise and export the native rhynth. A year after its foundation, the first export was ready but a Queen, born from an infected rhynth inside the cargo hold of the ship The Lector, started a Hive and began to kill the colonists. At the same time, a pack of Young Bloods attacked the settlement.
A survivor, Machiko Noguchi, started an evacuation plan and when it was complete, she and the Yautja Dachande, destroyed the town, and the Yautja and Xenomorphs, by crashing the orbital cargo section of The Lector into Prosperity Wells.
Two years after its destruction, the ruins of Prosperity Wells became a hunting ground for a Yautja party lead by Top-Knot, who, to their surprise, found Machiko, who stayed on the planet, waiting for them.
Some time after Noguchi departed with the hunters, survivors from the USCM ship Brilliant, established a defensive perimeter in the ruins while battling both a hunter party leaded by Light-Stepper, and a Predalien.
Known Inhabitants
Appearances
References
Community content is available under
CC-BY-SA
unless otherwise noted.