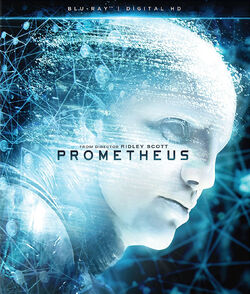 The 2012 Blu-ray release of Prometheus contained the 2012 film Prometheus in high-definition, along with a digital copy of the film and several bonus features. In the United States and Canada, the set additionally included a DVD copy of the film; this was omitted in other regions.
The Blu-ray was released October 8, 2012 in the United Kingdom[1] and October 9, 2012 in the US and Canada,[2] alongside the corresponding Collector's Edition Blu-ray and DVD releases of the film.
Contents
Other contents
Trivia
The Blu-ray contains an oblique reference to the events of the film Blade Runner in the form of a transcribed message from Peter Weyland found in the short films section, alongside the Happy Birthday, David short. Although no names are mentioned, the message clearly refers to the character Eldon Tyrell from the film, as well as the "replicants" manufactured by his company and his death at the hands of Roy Batty, one such replicant. The general aesthetic similarities between Blade Runner and the Alien franchise have long been noted by fans, with some suggesting that the two could quite easily co-exist in a shared fictional universe; while the reference on the Blu-ray is seemingly intended as nothing more than an in-joke, the way it links the two series is nonetheless worthy of note.
References
↑ "Blu-ray.com - Prometheus Blu-ray (UK)". Retrieved on 2018-03-16.
↑ "Blu-ray.com - Prometheus Blu-ray (US)". Retrieved on 2018-03-16.