| | |
| --- | --- |
| | This article covers a licensed crossover event that has been deemed non-canon by either the author or the Alien vs. Predator licensees, and thus should not be taken as a part of the "real" Alien vs. Predator universe. |

Predator versus Judge Dredd, also known as Judge Dredd vs. Predator, is a three-issue limited crossover comic book series that was first published by Dark Horse Comics and Egmont Fleetway from October-December 1997. It was written by John Wagner, illustrated by Enrique Alcatena, colored by Jimmy Johns, Perry McNamee, John Hanan III and Dave Stewart, lettered by Gary Fields, and edited by Philip Amara and David Land, with cover art by Brian Bolland, Dermot Power and Igor Kordey.
In the overall Dark Horse crossover comics line, Predator versus Judge Dredd was preceded by Batman/Aliens, and was followed by Batman versus Predator III: Blood Ties.
Publisher's Summary
#1: In the totalitarian future, Judge Dredd is the law. But for the Predator, the only law is the hunt. There's gonna be trouble down in Mega-City One... This is one fight you don't want to miss. Co-published with Fleetway.
#2: The law-dispensing Judges know how to deal with human predators. But this new breed isn't the "usual." They aren't even from this planet. It's a species so violent they named them "Predators." It's up to the toughest Judge, Judge Dredd, to take these Predators down. His partner is Psi-Judge Schaefer, a descendant of NYPD Detective Schaefer, who saw his share of Predators in the 20th century. There's gonna be trouble down in Mega-City One!
#3: When a rogue Predator and Judge Dredd faceoff, bet on a no-holds-barred showdown. But how much of Mega-City One will get demolished in the process? For once, Dredd may not mind a little help: a Psi-Judge named Schaefer, whose ancestors fought Predators in the 20th century. But now that she's tasted the blood of the vicious alien creature, there's no guarantee that Dredd's going to walk away from this one victorious.
Reprint History
Predator versus Judge Dredd was first serialized and reprinted in 3 parts, under the title Judge Dredd vs. Predator, in the British comics magazine Judge Dredd Megazine, Vol. 3 #36-38, from December 1997-February 1998. Cover artwork for these issues was provided by Steve Sampson (#36) and Greg Staples (#37-38).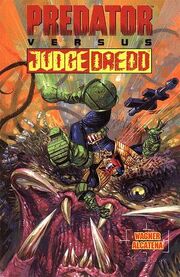 The series was collected in trade paperback form in November 1998, under the original title of Predator versus Judge Dredd. This release was edited by Chris Warner and featured a new painted cover by artist Duncan Fegredo.
The series was collected again in October 2014 alongside the sequel Judge Dredd versus Aliens: Incubus in a hardcover trade paperback entitled Predator vs. Judge Dredd vs. Aliens: Incubus and Other Stories, with new cover art by Henry Flint.
Behind the Scenes
Judge Dredd is arguably the single most iconic and popular character to ever come out of the British comics scene. Ironically, despite his popularity in America, Dredd and his series actually serve as a satire of American culture. Dredd has always appeared in the pages of the long-running British weekly anthology series 2000 AD, but has also branched off into his own solo series at times, most notably Judge Dredd Megazine. The character has made various attempted inroads into the American comics world at times, including an American publishing venture by 2000 AD publisher Eagle Comics in the 1980s and Fleetway Publications in the 1990s. The character was for a time optioned by DC Comics in the 1990s, as well, surrounding the release of the big-budget American movie adaptation starring Sylvester Stallone. However, both the movie's success and the life of the DC Comics version of the series were short lived.
Written by actual Judge Dredd creator John Wagner, the miniseries featured a mini who's who of Dredd artists from the British comics series, including Enrique Alcatena, Dermot Power and cover artists Brian Bolland — considered one of the most famous and iconic Dredd artists of all.
Owing to the historically somewhat complicated nature of the rights to the Judge Dredd franchise, each of the three Aliens/Predator/Aliens vs. Predator crossover comics featuring the character have been published by Dark Horse in collaboration with a different co-publisher — Egmont Fleetway for Predator versus Judge Dredd, Rebellion for Judge Dredd vs. Aliens: Incubus and IDW Publishing for Predator vs. Judge Dredd vs. Aliens: Splice and Dice.
While none of the crossover comics are considered canon with regards to the Aliens/Predator/Alien vs. Predator franchises, Predator versus Judge Dredd is one of a select few that forms an official, canonical part of the other comic book franchise involved. Historically, all appearances of Judge Dredd in his native stories are considered canonical and all fit into the same continuous timeline (for example, the character has aged in real-time over the course of his appearances). Thus his "trans-dimensional" encounters with such outside characters as Batman, the Xenomorphs and the Yautja are all considered part of actual Judge Dredd canon. Other examples of Aliens/Predator/Aliens vs. Predator crossover comics that are likewise considered canon in at least one of their "parent" series include Agents of Law #6, WildC.A.T.s/Aliens and Buffy the Vampire Slayer: In Space No One Can Hear You Slay!.
Trivia
Gallery
Issue covers
Other
External Links
Preview of the first few pages of issue #1 at the Dark Horse Comics website.
Community content is available under
CC-BY-SA
unless otherwise noted.