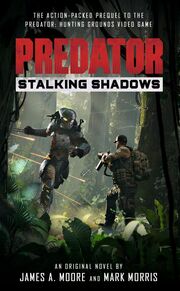 Predator: Stalking Shadows is an upcoming 2020 novel, set to be written by James A. Moore and published by Titan Books. It will be a prequel to the video game Predator: Hunting Grounds. It is due to be released May 26, 2020.[1]
Publisher's summary
An action-packed prequel to the new Illfonic video game PREDATOR: HUNTING GROUNDS — revealing deeply buried secrets in the battle between the ultimate hunters and their human prey.
This official prequel novel leads into the new PlayStation 4 video game from IllFonic. PREDATOR: STALKING SHADOWS is the bridge between Predator 2 and the current day continuity. U.S. Marine Scott Devlin takes on a new assignment that begins with the clean-up of a Los Angeles combat scene revealing what appears to be alien weapons and tech. His next mission, to an equatorial jungle, seems like an assault on a drug cartel until his team finds human bodies, skinned and suspended from the trees. Justifiably freaked out, Devlin digs deeper and discovers hidden truths, clandestine agencies, savage opponents... and an unexpected ally.[1]
Trivia
References
↑ 1.0 1.1 "Amazon - Predator: Stalking Shadows". Retrieved on 2019-10-16.
Community content is available under
CC-BY-SA
unless otherwise noted.