Predator: Kindred is a four-issue limited comic book series that was first published by Dark Horse Comics from December 1996-March 1997. It was written by Jason R. Lamb and Scott Tolson, pencilled by Brian O'Connell and Roger Peterson, inked by Bruce Patterson, colored by David Nestelle, lettered by Steve Dutro, and edited by Philip Amara and David Land, with cover art by Igor Kordey.
In the Predator comics line, Predator: Kindred was preceded by Predator: Strange Roux, and was followed by Predator: No Beast So Fierce.
Publisher's Summary
#1: Fleener Creek, Oregon, is a typical, small, Northwestern town — one that is ready to blow sky high with the repressed emotions in the hearts of the townspeople. And there to light the fuse is one of the most unrepressed killers in the cosmos! A community will either draw together or destroy itself when four kindred spirits are drawn to the forest: an action-starved sheriff, a serial killer, family man Buddy Wilcox, and — a Predator, the same one who killed Buddy's father right in front of him, in those very woods, thirty years before!
#2: A small northwestern town's heart of darkness is laid bare when evil comes to call! McCutcheon is a serial killer who finds himself no longer the hunter, but the hunted, as the authorities and some... thing chase him through the forest. Kelly Mathis is a small-town sheriff who must face old fears as she encounters the "boogieman" of her childhood. Buddy Wilcox is a family man whose father's brutal slaying still haunts him years later. Thirty years ago, a Predator came to town. Now these four kindred spirits are drawn together, toward an explosive conclusion!
#3: The sleepy town of Fleener Creek isn't so sleepy anymore. Young Sheriff Kelly is on the trail of a psychopathic killer, while Buddy Wilcox hunts the forest for his childhood obsession, a monster the other townsfolk believe exists only in his imagination — a Predator. The dark underbelly of this little community has finally been exposed, and, like raw flesh hitting sunlight for the first time, it's going to burn.
#4: Fleener Creek was a sleepy old town all right — like Andy and Barney could have walked right down Main Street on their way to fetch a slice of Aunt Bee's apple pie. But sleepy towns aren't always so dreamy. Sometimes sleep brings on nightmares, the kind that begin and end with an eight-foot-tall monster wielding spears and knives and all sorts of weapons. Fleener Creek may have been sleepy, but most of the folks in this town won't sleep sound again, not for a very long time. And others will never again wake up.
Reprint History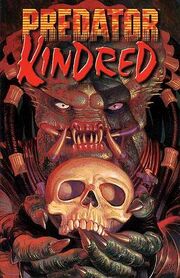 Predator: Kindred was first collected as a trade paperback in December 1997.
It was then collected again as part of Predator Omnibus: Volume 3 in June 2008.
The complete comic was released digitally through Dark Horse Digital on April 24, 2013, reusing Igor Kordey's cover art from issue 2.
Behind the Scenes
Kindred is one of a number of Predator and Aliens vs. Predator stories to feature a human "Predator", that is to say a human being who dons Predator armor and faces the Yautja or fights alongside them. In this case it is revealed to be Buddy Wilcox.
Other human Predators have included:
Genna - Deadliest of the Species
Sadiq - Deadliest of the Species
Gallery
Issue covers
Other
Community content is available under
CC-BY-SA
unless otherwise noted.