We're Getting Mutants in the MCU - The Loop
Play Sound

Predator: If It Bleeds is a 2017 short story anthology published by Titan Books. The book contains 16 short stories by different writers that chiefly focus on the Yautja. Contributing authors include Kevin J. Anderson, David Boop, Jennifer Brozek, Larry Correia, Mira Grant, Tim Lebbon, Jonathan Maberry, Andrew Mayne, Weston Ochse, S. D. Perry, Steve Perry, Holly Roberds, Jeremy Robinson, Bryan Thomas Schmidt, John Shirley, Peter J. Wacks, Wendy N. Wagner and Dayton Ward. It was released on October 17, 2017.
As well as standard print editions, the novel was released in audiobook format in 2018, read by an ensemble cast and published by Blackstone Audio.
Publisher's Summary
Over centuries, extraterrestrial hunters of the Yautja race — also known as Predators — have encountered (and stalked) humans on Earth and in the depths of space. Offered here are sixteen all-new stories of such hunts, written by name of today's most extraordinary authors.
Inspired by the events of the original Predator movies, graphic novels and novels, these adventures pit hunter against prey in life-and-death struggles where there can be only one victor.
Stories Included
The book also features an introduction by Schmidt and a section listing biographies for each of the authors involved.
Audiobook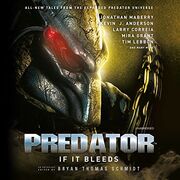 In 2018, Blackstone Audio produced an unabridged audiobook of Predator: If It Bleeds, read by an ensemble cast. The audiobook runs for 12 hours and 34 minutes and was released on February 27, 2018.
Trivia
The book's title is taken from the line, "If it bleeds, we can kill it," spoken by Dutch in the film Predator. This follows the tradition of naming Alien, Predator and Alien vs. Predator anthologies after film quotes, other examples being Aliens: Bug Hunt, Aliens vs. Predators: Ultimate Prey and Predator: Eyes of the Demon.
Several of the stories feature characters from other films and novels in the Predator franchise, including Sloane and Mary from Predator: Turnabout, Harrigan and Garber from Predator 2, and "Snow Dog" Halley from the Rage War trilogy.
Several of the stories also feature real historical figures, or reference real-life events or myths.
Of the 18 authors contributing to the anthology, Kevin J. Anderson, Tim Lebbon, S. D. Perry, Steve Perry and John Shirley had all previously written stories for the Predator franchise, be they novels or comic books. Additionally, Weston Ochse, Larry Correia and Jonathan Maberry previously contributed short stories to the Aliens: Bug Hunt anthology.
See Also