Predator: Hunting Grounds is an upcoming asymmetric multiplayer shooter set in the Predator franchise, scheduled to be released in 2020. It will be the first Predator video game in a decade, following the Predators-themed mobile games from Angry Mob and Gameloft released in 2010, and the first full title for consoles since 2005's Predator: Concrete Jungle (although several other games featuring the Predator have been released in the interim).
Development
Hunting Grounds is being developed by IllFonic (working closely with 20th Century Fox), to be published by Sony Interactive Entertainment for release on the PlayStation 4 and PC via the Epic Games Store. The game is currently being developed as a multiplayer only experience.[1] The team primarily took inspiration from the '87 film for the setting of the game (citing it as the "true crown jewel" of the IP); additionally, as a result of working closely with Fox, IllFonic has been given a unique opportunity in that, everything they make in this game will become a part of the official lore.[2]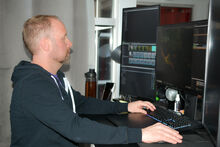 Gameplay
A multiplayer set in the jungle, Hunting Grounds consists of a team of four players who will play as elite special forces carrying out counter-terrorist operations and activities against an organization known as Stargazer and other terrorist groups, as well as sabotaging their shipments and retrieving important VIP targets from them, and completing other special tasks.
While this element of the game plays out, another player will take control of the Predator to try to wipe out all of the special forces team members.[3]
For the first time in a Predator game, players have the option of playing as a male or a female Predator.[4]
Trivia
As previously stated, Hunting Grounds will be the first Predator video game produced for home gaming systems since Predator: Concrete Jungle, released on PlayStation 2 and Xbox in 2005, some 15 years previously. Since that time, the only Predator games made have been mobile titles, although the Predator has featured in several Alien vs. Predator games, as well as making "guest" appearances in games such as Call of Duty: Ghosts, Mortal Kombat X and Tom Clancy's Ghost Recon Wildlands.
The development of Predator VR was first leaked around the announcement of Hunting Grounds, leading to rumours that the two could be connected as PlayStation 4 exclusives. However, Predator VR was subsequently confirmed to be a separate product.
Images
Videos
References
Community content is available under
CC-BY-SA
unless otherwise noted.