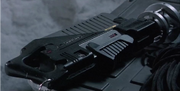 The piton gun[1] was a device manufactured by Weyland Industries used to drive pitons into walls. It was large, requiring a human to use both of their hands, but it featured a single-point sling that attached to the top of the handle.
On October 10, 2004, piton guns were used by the members of the Weyland Industries expedition to Bouvet Island in order to drive pitons into the walls of the tunnel that lead from Razorback Point Whaling Station to the underground Yautja Pyramid that the team came to investigate. One was later used by Lex Woods to kill a Xenomorph by firing it into its mouth, exploding the back of its head.
Behind the scenes
The piton gun is an entirely fictional device, but Alien vs. Predator is not the first time it has appeared — James Bond uses piton guns in Goldfinger (1964), Diamonds Are Forever (1971) and GoldenEye (1995) and Gabe Walker uses one in the 1993 film Cliffhanger.
In the film's script and novelization, it is Lex who uses the piton gun to drive the pitons into the wall of the ice tunnel and affixes the lights. Furthermore, she is seemingly the only one to be using the gun.[1]
The prop (before being casted) was built by senior model maker Steve Howarth, who felt it resembled the Pulse Rifle from Aliens. With only a side drawing for reference, he made the gun's pattern essentially from Foamex. Although he knew the gun was going to be cast, he still painted to give it "the finished look." Ironically, the colors on the final prop ended up being essentially reversed and the "rings" on the front were flipped around.[2]
For the scene where Sanaa Lathan (Lex) fires the piton gun at an Alien (Tom Woodruff, Jr.), exploding the back of its head, the film's special effects department placed directional squib explosives behind Woodruff's head, which were rigged to blow apart the back half of a specially-constructed rigid foam Alien head dome.[3]
Trivia
Appearances
Gallery
Videos
References
↑ 1.0 1.1 1.2 Marc Cerasini. Alien vs. Predator, p. 114 (2004), HarperEntertainment.
↑ 3.0 3.1 Alec Gillis, Tom Woodruff, Jr.. AVP: Alien vs. Predator: The Creature Effects of ADI, p. 114 (2004), Design Studio Press.
Community content is available under
CC-BY-SA
unless otherwise noted.