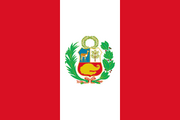 Peru, officially the Republic of Peru, is a country in western South America. It is bordered in the north by Ecuador and Colombia, in the east by Brazil, in the southeast by Bolivia, in the south by Chile, and in the west by the Pacific Ocean. Peru is an extremely biodiverse country with habitats ranging from the arid plains of the Pacific coastal region in the west to the peaks of the Andes mountains vertically extending from the north to the southeast of the country to the tropical Amazon Basin rainforest in the east with the Amazon river. The capital and largest city is Lima, located on the western coast.
History
Lasalle Bionational had a Xenomorph research facility in Lima, the capital city of Peru. When it was attacked by Salvaje and his religious extremists, it unleashed a Xenomorph infestation that ultimately consumed the entire planet.
Appearances
References
External Links
Community content is available under
CC-BY-SA
unless otherwise noted.