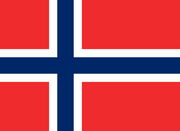 Norway, officially the Kingdom of Norway, is a country in northern Europe. The westernmost of the Nordic countries, it shares a long eastern border with Sweden, and is bordered by Finland and Russia to the north-east, and the Skagerrak Strait to the south, with Denmark on the other side. Norway has an extensive coastline, facing the North Atlantic Ocean and the Barents Sea. The capital and most populous city is Oslo, located in the south of the country.
External Links
Community content is available under
CC-BY-SA
unless otherwise noted.