Welcome to Xenopedia,
The

vs.

Wiki

BUILDING BETTER WORLDS SINCE
5. 26. 06
---
Xenopedia mourns the passing of Ian Holm, aka Ash, at the age of 88.
Aside from his work in the Alien franchise, he is perhaps best remembered for his portrayal of the hobbit Bilbo Baggins in Peter Jackson's The Lord of the Rings trilogy.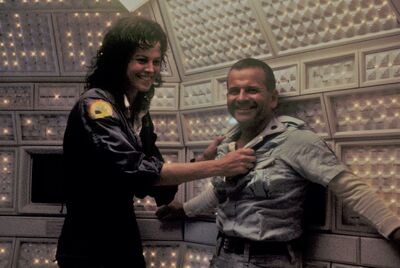 ---

Welcome, <insert name here>!
Xenopedia is a comprehensive collaborative database documenting everything in
the official Alien, Predator and Alien vs. Predator universe, including Prometheus.
Users are currently editing 5,009 articles started since May 26, 2006, and
you can help!
About this wiki · Recent changes · Active users · Policies and guidelines · Manual of style · Administrators

ATTENTION: THIS WIKI CONTAINS UNMARKED SPOILERS

January 2020
January 2020
December 2019
October 2019
September 2019
August 2019
July 2019
June 2019
The Motion Tracker is named in tribute to the news section that appeared in Aliens magazine.
After the release of Alien3, Sigourney Weaver commented on her apparent exit from the franchise, joking that "they'd probably find a way to resurrect Ripley using the DNA in her fingernails". In doing so, she'd unintentionally foreshadowed the basic scenario of Alien Resurrection, made five years later.
According to Sigourney Weaver, the idea of including a ninth Ripley clone in Alien Resurrection was discussed at one point. "Ripley 9" would be, essentially, an evil version of Ripley 8. The concept was ultimately not pursued.
In Alien, Bolaji Badejo didn't play the Alien in two of its most iconic scenes — stuntman Eddie Powell played the creature as it swooped on Brett and snatched Dallas as Badejo found the harness for Brett's scene too restricting and the vents were too small for him to fit into.
The novella Cyberantics: A Little Adventure exists both in the real world and within the fictional Alien universe — as well as being available for purchase, it is referred to several times in the comic Aliens: Hive, in which its "author", Stanislaw Mayakovsky, is a major character.
Create blog post
Recent Blogs
I'm not sure what to feel about this announcement. I've always loved what Dark Horse has done with the licenses and now that Marvel is snapping them …

Read more >

I have heard many theories and leaks about this very ambitious game. I have no other games to look forwards too, and I'm very excited to hear any ide…

Read more >

Congrats Xenopedia on achieving 5000 pages! Big milestone there. HadAnd0426 (talk) (Contribs) 17:58, June 28, 2020 (UTC)

Read more >
See more >
Community content is available under
CC-BY-SA
unless otherwise noted.