"Seems [Mother] has intercepted a transmission of unknown origin."

This article needs to be provided with more sources and/or appearances to conform to a higher standard of article quality.

Kendra and Curtis were characters cut from Aliens vs. Predator: Requiem during the editing process. They were a sister and brother from Gunnison, Colorado, and eventually died when a nuclear bomb was dropped on the town.
Behind the Scenes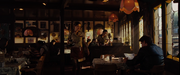 Although several scenes featuring Kendra and Curtis were shot, the characters were removed almost entirely from the film during editing, appearing only briefly in the background during the scene where Dallas eats at the town's diner. A production still was also released showing them at the hospital, where Curtis had gone for treatment for his injured hand. While there, they briefly encounter the Predalien, but slip away while it is busy killing nurse Helen.
Later, they come across the main group of survivors shortly after they arm themselves in the gun store, and the group saves the children from several Drones. Later, Kendra and Curtis go with Sheriff Morales when he elects to continue on to the center of town rather than head to the hospital. Presumably, they were originally killed when the bomb is dropped on the town.
The deleted scenes featuring Kendra and Curtis have never been released, although they are briefly discussed in the director's commentary for the Unrated Edition of the film.
Trivia
Despite the fact any meaningful footage of the pair was cut from the finished film, Curtis' name still appears in the credits.
Community content is available under
CC-BY-SA
unless otherwise noted.