"This is old. Very old. They've been doing this for a long time."
―Hanzo (from Predators)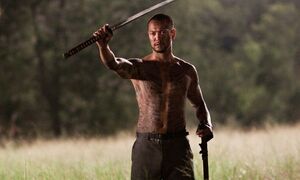 The Katana was a single-edged sword created on Earth, by Humans within the country of Japan. The sword is of an ancient design, created sometime during the reign of ancient and feudal Japan.
Appearance(s)
On the Game Preserve Planet, Yakuza enforcer Hanzo was within Noland's hideout and came across an ancient Katana, possibly from either ancient or feudal Japan. This reveals that the Yautja have been hunting humans on this planet for centuries. It would be their escape from Noland's hideout, that led him to take the weapon with him, aside from using his customized Beretta 92FS. Hanzo would soon find himself face to face with Falconer. Drawing his sword and Falconer his Wristblade, both fought until both Falconer and Hanzo succumb to their injuries and die.
Community content is available under
CC-BY-SA
unless otherwise noted.