Jon Finch (March 2, 1942 – body found December 28, 2012)[1] was an English actor who was originally cast as Kane in the 1979 film Alien. He was eventually replaced by John Hurt.[2] Notable films Finch appeared in include Macbeth (1971) and Kingdom of Heaven (2005).
Finch was found dead in his flat in Hastings, East Sussex on December 28, 2012 after friends and family became concerned for his welfare. He was aged 70.[1]
Work
Alien
Main article: Alien (film)
The story of Finch's departure is somewhat unclear. Most sources agree that Finch left the film due to a diabetic attack, which is denied by Finch himself. Some say that Finch's illness revealed itself before the cameras, others say it took place in a plasterer's chair. Some say he filmed for weeks, some say he filmed for days, and some say he filmed for merely one shot.[2]
"I had cast Jon Finch, who was Polanski's Macbeth, as Kane," Ridley Scott told Empire magazine. "First day, first shot, Jon collapsed. I talked to him and he said, 'I'm a diabetic…' He had gone yellow and couldn't get up — we had to lift him out of the scene. He was fine, but he had to recuperate. He hadn't taken his insulin and was drinking too much Coca-Cola." Finch's departure sent Scott back to his Kane "wishlist." He settled for John Hurt, who had turned down the role before due to a prior engagement. "That night we looked at the book and came across John Hurt, who I have always liked." Luckily for Scott, Hurt was now free to take over the role.[2]
The story is more complicated than Ridley suggests, however. Special effects supervisor Brian Johnson tells an alternate take on Finch's sudden illness: "Jon Finch was the character that John Hurt took over. And Jon Finch went into the sculptor's place to have his life mask done, and he hadn't told anybody he was a diabetic, and he had to discover while he was inside his life mask. And he actually passed out. And they went, 'okay John', and there was no response. And they got the ambulance out there and dragged him out. Because he hadn't declared that on his insurance, the company couldn't go on using him."[2]
Art director Roger Christian's version is closer to Scott's than Johnson's, though he credits the set smoke, as well as the diabetes, with Finch's departure: "[Finch] looked really ill [on the Alien set]. Despite what the books and the other sites say, he actually did three days of shooting. But the smoke, after the first two or three days… Ridley loves smoke, and that was when we were using the bee-puffer, the incense smoke. At that stage, that was really upsetting [Finch], plus there was the diabetes, as it transpired. But no, he did more than one shot – he was there for the first couple of days. He was really trying, and he looked great, actually, as the character. And then he got so ill he just couldn't carry on, and Hurt just took over and Ridley didn't have to re-shoot that much; just the parts with [Finch]."[2]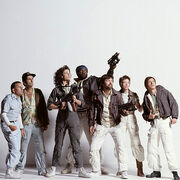 Jon Finch explained the situation himself on the Alien Anthology Blu-ray set, but, curiously, diabetes is not attributed at all: "Well, the first time I nearly worked with [Ridley Scott] was on The Duellists, which was his first picture," he said. "And he sent the script to my then-agent, who I'd just left … of course, the agent hadn't actually sent the script to me, so I lost out on The Duellists … and then we did Alien, and I did, I think, about three days on that, plus all the building of the chest and the neck and the head and all that stuff, you know. And after three days, I had an extremely bad bronchial attack for the first time in my life—never happened since—and ended up in intensive care and had to take two weeks off after that. So, you know, I couldn't work it. So sadly, I missed that one, and John [Hurt] did it."[2]
The closest version of the truth would seem to incorporate everything we've been told: that Finch filmed for three days and even sat for his life-cast sessions but, due to set smoke, suffered a bronchial attack and was hospitalized. Initially, on set, Finch attributes his illness to diabetes. The two weeks needed for recovery necessitate Finch's withdrawal from the film, and Hurt is signed and cast to fulfil the pivotal role of Kane.[2]
Alien Quadrilogy
The shot where Finch fell ill was included, with his permission, on the Alien Quadrilogy set's extras.[4]
Filmography
Year
Title
Notes
1970
The Vampire Lovers
The Horror of Frankenstein
1971
Sunday Bloody Sunday
Macbeth
1972
Frenzy
Lady Caroline Lamb
1973
The Final Programme
1975
Diagnosis: Murder
1976
Une Femme Fidèle
The Second Power
1977
The Standard
1978
Death on the Nile
1979
La Sabina
1980
Breaking Glass
Gary Cooper, que Estás en los Cielos
1982
Giro City
Doktor Faustus
1983
Power Game
1984
Pop Pirates
1988
Plaza Real
The Voice
1989
Streets of Yesterday
With Paul McGann
La Più Bella del Reame
1994
Lurking Fear
1996
Darklands
1998
Bloodlines: Legacy of a Lord
2002
Anazapta
With Christopher Fairbank
2005
Kingdom of Heaven
With Giannina Facio and Vladimir "Furdo" Furdik, directed by Ridley Scott
Trivia
Coincidentally, John Hurt (the actor who replaced Jon Finch) shared a very similar first name with Finch.
Gallery
See Also
External Links
References
↑ 1.0 1.1 "His other acting roles - Local News - Hastings and St. Leonards Observer". Hastingsobserver.co.uk. Retrieved on March 1, 2014.
↑ http://aliensandpredators.tumblr.com/post/186397871/cast-publicity-shot-for-alien-note-the-presence
Community content is available under
CC-BY-SA
unless otherwise noted.