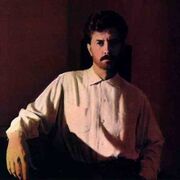 John Bolton (born May 23, 1951) is a British comic book artist who has worked on several comic books in Dark Horse Comics' Aliens and Aliens vs. Predator lines. He also created cover art for several Aliens and Predator novels from Bantam Books. He is the husband of Liliana Bolton, who ran Dark Horse International in the 1990s.
Extremely critically acclaimed, Bolton's high quality, rich, dark, painted covers have come to be as synonymous with Dark Horse's comics as other of the company's regular cover artists such as Dave Dorman and Arthur Suydam. In the mid-1990s, Bolton was chosen to be cover artist for the re-release of every Aliens trade paperback to date at the time, as part of the "remastered" Aliens Library Editions series. Bolton was also the subject of the 2003 documentary film A Short Film About John Bolton.
Biography
Bolton's introduction to comics came about quite casually after he graduated from East Ham Technical College (whose former alumni include Gerald Scarfe, Barry Windsor-Smith and Ralph Steadman) with a degree in graphics and design.
His first works in Great Britain were for magazines like Look In (alongside other British talents such as Arthur Ranson, Angus P. Allan and Jim Baikie), The House of Hammer and Warrior (edited by Dez Skinn).
In 1981 Marvel Comics' editor Ralph Macchio noticed his work and called him to work for an adaptation of Kull of Valusia for Epic Comics. After illustrating two Kull stories, Bolton began working on the historical-fantasy character Marada, written by Chris Claremont (author of X-Men). This was published by Epic Illustrated one year later.
After another fantasy series, Black Dragon (1985), the duo Claremont & Bolton produced some short stories about X-Men's lives for X-Men Classic. This represented the first introduction of Bolton to the world of superheroes. In this period Bolton worked on covers for Eclipse and Pacific publishers, and on the graphic novel Someplace Strange, written by Ann Nocenti (1988).
From 1989 Bolton devoted himself to horror, his favourite genre. Apart from a great number of covers for Dark Horse Comics' Aliens and Aliens vs. Predator comic book lines — most notably the cover artwork for the Aliens Library Editions reissue series — and several adaptations of horror movies, Bolton's main work from this period is his collaboration with writer Clive Barker (including the comic book version of Hellraiser).
In 1990 Bolton worked on the first episode of The Books of Magic for DC Comics, written by Neil Gaiman. The physical appearance of the protagonist, Timothy Hunter, is that of Bolton's eldest son. He has also depicted his wife and sons as characters in various other comic books. In 1992, Bolton produced the comic book adaptation of the film Army of Darkness, the third entry in Sam Raimi's Evil Dead series, for Dark Horse. The comic was later reprinted in the UK in Total Carnage magazine.
In 1995 Bolton produced art for the Man-Bat mini-series, written by Jamie Delano for DC Comics. Bolton said he accepted only because the story pivoted on a villain, instead of Batman, who he considered too winning a character. That same year he also began producing cover artwork for the on-going Aliens novel series from Bantam Books, also producing several Predator book covers from 1997 onwards.
Later Bolton worked on another Batman book, Batman/Joker: Switch. His latest works include User, written by Devin Grayson, Menz Insana, a mad trip by Christopher Fowler, and Gifts of the Night by Paul Chadwick.
Credits
Cover artist
Aliens
Aliens vs. Predator
Aliens Library Editions covers
Novel covers
Aliens
Predator
Aliens vs. Predator
Gallery
Community content is available under
CC-BY-SA
unless otherwise noted.