James Francis Cameron[1] (born August 16, 1954) is an Academy Award-winning Canadian film director, film producer, deep-sea explorer, screenwriter and editor[2][3][4][5] who wrote and directed the 1986 film Aliens. He is the ex-husband of producer and screenwriter Gale Anne Hurd, who produced Aliens. Other notable films Cameron has directed include The Terminator (1984), The Abyss (1989), Terminator 2: Judgement Day (1991), True Lies (1994), Titanic (1997) and Avatar (2009).
For his work on Aliens, Cameron won two Saturn Awards, for Best Director and Best Writing. In addition to this, he has won three Academy Awards (Best Picture, Best Director and Best Film Editing for Titanic), two Golden Globes and nine Saturn Awards, and has been nominated for a further three Academy Awards (Best Picture, Best Director and Best Film Editing for Avatar) and six BAFTAs. Notably, Cameron has directed the highest grossing film of all time twice — Titanic in 1997 and Avatar in 2009.
Awards and Nominations
Year
Film
Notes
1986
Aliens
Saturn Award for Best Director
Saturn Award for Best Writing
Hugo Award for Best Dramatic Presentation
Filmography
Trivia
Cameron is known for recasting actors he has worked with previously. Michael Biehn and Bill Paxton have each been in four Cameron films, Jeanette Goldstein and Arnold Schwarzenegger have been in three, while Lance Henriksen and Sigourney Weaver have been in two. Biehn was additionally considered for the role of Colonel Miles Quaritch in Avatar before Stephen Lang was cast (who, ironically, had auditioned unsuccessfully for the part of Hicks in Aliens).[7]
Cameron's first film was called Xenogenesis; from 1999 to 2000, Dark Horse Comics released 3 comic book miniseries as part of their "Xenogenesis" crossover event, one each for Aliens, Predator and Aliens vs. Predator.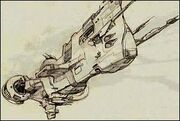 As well as a director, Cameron is also a prolific conceptual artist on his own films. Among the items designed by Cameron in the Alien series are the USS Sulaco, the Power Loader and the Xenomorph Queen. Cameron is also the man who suggested the Predator have mandibles in Predator.[8]
Gallery
References
↑ Space Foundation. (n.d.). America's vision: The case for space exploration, p. 42. Retrieved December 12, 2009.
↑ Contact Kat Hannaford: Email the author Comment (June 2, 2010). "Environment Expert/Avatar Director James Cameron To Help Clean Up BP Gulf Oil Disaster". Gizmodo.com. Retrieved on March 23, 2012.
↑ "A Message from James Cameron: Vote NO on 23". YouTube (November 17, 2011). Retrieved on March 23, 2012.
↑ Sony (2009). James Cameron returns to abyss with Reality Camera System. Retrieved December 25, 2009.
↑ Thompson A (2009). "The innovative new 3D tech behind James Cameron's Avatar". Fox News. Retrieved December 25, 2009.
↑ Biehn's appearance in Terminator 2: Judgement Day was cut from the theatrical release, but later reinstated in the extended Special Edition
↑ "EMPIRE - Aliens: The Colonial Marines". Retrieved on 2013-11-28.
↑ "Monster Legacy - Predator Metamorphosis – Part I: Predator". Retrieved on 2014-01-16.