The Hasdrubal was a rapid-response combat ship in service with the United States Colonial Marine Corps. It carried a crew of 32. One of which was a Weyland-Yutani representative Lorimer and the other being the synthetic Singer.
History
Orbited Tartarus and LV-223 in the early 2220's.
Crew
Captain Paget
Sergeant Roth
Corporal Wearing
Private Indelicato
Lorimer — Weyland-Yutani representative
Anders
Azzopardi
Berlitz
Cross
Danziger
Ganz
Keynes
Loman
Morten
Ngan
Sharif
Talbot
Wilson
Behind the scenes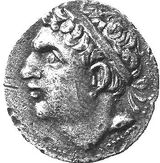 The names of the Hasdrubal may be a reference to Hasdrubal Barca, an ancient Carthaginian general known for his efforts in the Second Punic War.
Appearances
USCM vehicles
Light attack vehicles
APCs
Command vehicles
Tanks
Mortar carriers and self-propelled artillery
Powered exoskeletons
VTOL vehicles
Dedicated re-entry vehicles
Strikeships
Gunships
Fighter aircraft
Dropships
Lift shuttles
Scout ships
Emergency escape vehicles
Troop transports
Rapid-response combat ships

Rapid-response Combat Ship

Attack transports
Other military starships
Related articles