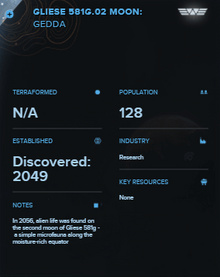 GLIESE 581G.02: MOON: GEDDA[1]
Located at galactic coordinates RA: 15h 19m 27s Dec: -7° 43′ 19″ [2] Gedda lies at a distance of 20.42 lightyears(6.26 Parsecs) from Earth. Having never been terraformed, the population of 128 on the moon is quite low compared to other colony standards. Having been discovered in 2049, its main industry is research. In 2056, alien life was found on the second moon of Gliese 581g – a simple microfauna along the moisture-rich equator.
References
Community content is available under
CC-BY-SA
unless otherwise noted.