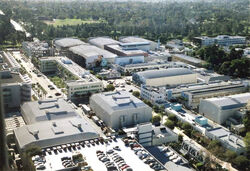 Fox Studios is a major American film and television studio owned by 20th Century Fox situated in Century City, Los Angeles, California. Fox is one of only two major film studios (the other being Paramount) still located within the Los Angeles city limits. Alien3, Alien Resurrection and Predator 2 were filmed at Fox.
Overview
Fox Studios covers more than fifty acres and caters to a wide range of productions, from full-length, big-budget feature films to sitcoms, commercials, music videos and still shoots. The studio contains several large exterior lots as well as a 500,000 gallon water tank on Stage 16, originally constructed for the filming of Alien Resurrection.[1] The studio also has extensive post production facilities and a large number of on-site production services.
New York Street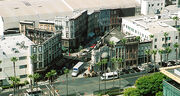 Perhaps the most notable feature on the Fox Studios lot is the site's exterior New York Street set, which is, as its name implies, a recreation of a typical New York City street, with comparable architecture and signage, that is permanently erected on one of the studio's lots. The set also includes practical interiors within several of the buildings that line the street. Numerous films and television series have been filmed on the studio's New York Streets set, which can also be modified to represent areas of other cities, such as San Francisco's Chinatown, for specific productions.
References