Emun Elliott (born November 28, 1983)[1][2] is a Scottish actor who played Chance in the 2012 film Prometheus. Other notable films Elliott has appeared in include Star Wars: The Force Awakens (2015).
History with franchise
Elliott saw Alien "a long, long time ago,".[3] He's said that he's "a massive fan of the Alien films"[4] and "They're landmark films, especially the first one Alien, which has really stood the test of time"[5]
Work
Prometheus
Main article: Prometheus (film)
To get the part his Prometheus, Elliott's agent "called up" and the film was just called "The Ridley Scott Project".[4] Elliott went into a room which was "full of actors", and Elliott was "pretty sure they weren't all up for the same part, because there were middle-aged women there, seven foot tall skinheads and I don't really fit in either of those brackets" and said, "they were obviously just seeing anyone and everyone."[4] Elliott was handed a couple of pages of dialogue with no context,[4] forcing Elliott to "go on instinct."[3] During the auditions, "you weren't allowed to leave the room to go to bathroom, it was all very top secret,".[4] Eventually, they'd call actors into a room and "put yourself on tape for it, you just had to go for it and hope for the best."[4] After that, Elliott got a call approximately a month later from his agent saying that Scott was interested in putting him in his film; after that it was "concrete and it was actually happening!"[4] After being offered the job, it took a bit of time for Elliott to "get [his] breathing back."[6] According to Elliott, "It wasn't one of those stereotypical stories you hear about 15 auditions and having to go through a million different producers. It was a massive, massive privilege."[4] Before doing Prometheus, Elliott watched Alien again.[3] Elliott was surprised "how suspenseful and ahead of its time it was," and being linked to it made him nervous because he wanted to do it justice.[3]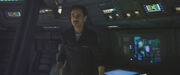 When Elliott was preparing to play Chance, he came up with a backstory, but at the back of his mind he thought Scott would tell him "to forget all that and just play what was on the page.", but Scott "took it all on board." Elliott felt a bit nervous on his first day, mainly because Scott "had built a spaceship and it looked pretty much like the one in Alien." During preproduction,
Michael Fassbender
(
David
) was still tied up working on another picture, so when Scott conducted screen tests for
Charlie Holloway
, Elliott stepped in to play David. "This was the first time I met Ridley," Elliot said. "It was great because it broke the ice, and instead of small talk, we got to know each other on a professional basis."
[3]
Elliott worked with most of the Prometheus cast, but primarily Idris Elba (Janek), Fassbender and Benedict Wong (Ravel). Elliott and Wong played the pilots of the ship and Elba played the captain, so they worked in "this sort of threesome." Elliott said, "It was really straightforward; we had a brilliant script so it was just a case of doing justice to that." Scott gave them free reign to do whatever they wanted to do and gave them "nudges here and there." Elliott "learnt an awful lot" working with Elba.[8]
Elliott supposedly got a Facehugger after finishing on Prometheus, which he kept above his bed,[3] and possibly a T-shirt.[8]
Filmography
Trivia
In an interview with 1883 Magazine, Elliott said that Prometheus was the best set he's ever worked on.[6]
External Links
References