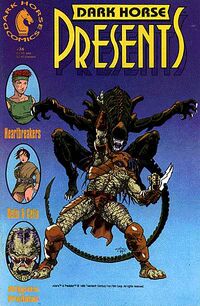 Dark Horse Presents #36 is an issue of the anthology comic book series Dark Horse Presents that was published by Dark Horse Comics in January 1990. It is notable as being the birthplace of the the Alien vs. Predator franchise — it contains the final installment of the original three-part Aliens vs. Predator short story, in which the two titular creatures finally come face to face.
As well as including the first ever comic book meet-up of the Alien and Predator creatures, Dark Horse Presents #36 also featured the first piece of Aliens vs. Predator cover artwork, by artist Chris Warner, and was the first piece of official media to carry the title Aliens vs. Predator.
Publisher's Summary
The most eagerly-awaited storyline begins in this month's issue of Dark Horse Presents! They are the galaxy's most deadly alien races; now, the time has come for them to meet at last! It's the Aliens and Predator together in one story! The confrontation of the century brought to you by Randy Stradley and film designer (The Abyss and RoboCop II) Phillip Norwood! The story will then continue in a full-color miniseries coming out next month! Also, Paul Guinan and Anina Bennett continue the story of The Heartbreakers — beautiful and deadly clones! Plus, the further "sword and sorcery" adventures of Delia and Celia by Gary Davis!
Overview
The rear cover of the comic featured Aliens vs. Predator painted art by Dave Dorman; a varaint of the issue was released in which the two pieces of cover artwork were switched, with Dorman's painting on the front and Chris Warner's inked drawing on the rear. Otherwise, the contents of the two versions is identical.
Trivia
Dave Dorman's variant cover art from Dark Horse Presents #36 would go on the feature several times in early Trident Comics issues of Aliens magazine (which also carried Aliens vs. Predator comic book stories) — first as cover artwork for issue 4, and later as a free poster given away with issue 8. Chris Warner's cover from Dark Horse Presents #36 also appeared as cover art on issue 5.
Gallery
Variant cover
Community content is available under
CC-BY-SA
unless otherwise noted.