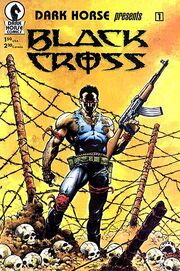 Dark Horse Presents, commonly abbreviated as DHP, is a long-running, three-volume comic book anthology series published by Dark Horse Comics. Since its launch in 1986, it has been published in several different incarnations — it was the company's flagship title until its cancellation in September 2000, was relaunched as a digital publication on the MySpace social networking site from July 2007-August 2010, and finally made a return to print in June 2011. Since its most recent relaunch, the anthology has also been published simultaneously in the digital format via Dark Horse Digital.
Dark Horse Presents has featured numerous Aliens, Predator and Aliens vs. Predator comic book stories over the course of its history, alongside stories featuring other Dark Horse properties and characters. In particular, the anthology is notable for being the birthplace of the Alien vs. Predator franchise, which began with the first ever Aliens vs. Predator comic short story published in Dark Horse Presents #36 in February 1990.
Overview
Dark Horse Presents, along with Boris the Bear, was the first comic book to be published by the fledgeling Dark Horse Comics.[1] Throughout its initial run, the series was primarily presented in black and white, although occasional annuals and special issues were printed in color. From 1992-1994, Dark Horse concurrently produced a second anthology series, entitled simply Dark Horse Comics, that featured full-color stories. These two series, together with the UK-based Aliens magazine, account for the majority of Aliens, Predator and Aliens vs. Predator comic short story releases — although there have also been a handful of other one-shot and special issue short stories.
As well as regular monthly anthology releases, Dark Horse Comics have also released a number of one-shot annuals and special issues under the Dark Horse Presents title.
History
The first issue of Dark Horse Presents hit shelves in July 1986.[2] Two years later, the anthology marked the launch of the Aliens comic book line with Aliens: Theory of Alien Propagation, a companion short story to Aliens: Outbreak, published in issue 24. A year on from this brief flirtation with the Aliens/Predator franchise, Dark Horse Presents laid down a watershed moment in the expanded universe when it gave birth to the Alien vs. Predator franchise, in the form of the original Aliens vs. Predator story, bringing the two titular creatures together for the first time in Dark Horse Presents #36. This story also marked the first time the Predator character had appeared in the anthology, although the Predator comics line would get its own stand-alone appearance later the same year. Following these debut stories at the turn of the 1990s, Aliens and Predator comics would go on to feature regularly in Dark Horse Presents, although Aliens vs. Predator short stories would be rare in the pages of the anthology — somewhat ironic given that the publication was where the franchise made its start.
The first print run of Dark Horse Presents was cancelled with issue 157 in September 2000. It was (and remains) Dark Horse's longest-running continual publication. Over the course of its fourteen-year run, many of the characters and properties it introduced were spun-off into their own successful series, including Aliens vs. Predator, Concrete, Hellboy and Sin City. Following the cancellation of the original run, only Aliens stories have ever featured in the anthology again — Predator and Aliens vs. Predator short stories have never returned to any of the later formats the series has taken.
In July 2007, Dark Horse Presents was relaunched online as a supplement on the company's page at Myspace.com, under the title Myspace Dark Horse Presents (MDHP). This incarnation of the anthology was the first to be presented in full color and lasted until August 2010, when it was again cancelled.
The series made a return to the printed format in June 2011 as Dark Horse Presents, Vol. 2. At the same time, Dark Horse began releasing the anthology simultaneously through its digital arm Dark Horse Digital. As with Myspace Dark Horse Presents, the series was now a color publication, and it has remained so ever since. The relaunch of the anthology also saw the revival of a number of older Dark Horse properties, such as Ghost and Trekker. In August 2014, the series was scaled back from an 80-page publication to 48 pages and again relaunched, as Dark Horse Presents, Vol. 3, but it continues to be published monthly in both physical and digital formats.
Contents
Note that only Aliens, Predator and Aliens vs. Predator content is listed below. The series also contained numerous other comic book stories, but these have been omitted as they are irrelevant to the franchise.
Volume 1
Volume 2
Volume 3
| | |
| --- | --- |
| | Issue 2 (Sept 2014) |
Annuals and special issues
Trivia
Dark Horse Presents #24, released in November 1988 and featuring an Aliens short story (later renamed Aliens: Theory of Alien Propagation), is sometimes referred to as the first Aliens comic to be published by Dark Horse, but this incorrect. That honor actually goes to Aliens: Outbreak #1, which was released in July 1988. The short story is actually a companion piece to that series.
External Links
Dark Horse Presents on Myspace
References
↑ "Dark Horse - History". Retrieved on 2015-04-22.
↑ "Dark Horse Comics - Dark Horse Presents #1". Retrieved on 2016-02-16.
Community content is available under
CC-BY-SA
unless otherwise noted.