Dark Horse Comics

Aliens

Predator

Aliens vs. Predator

Prometheus

Dark Horse Presents

Dark Horse Comics (series)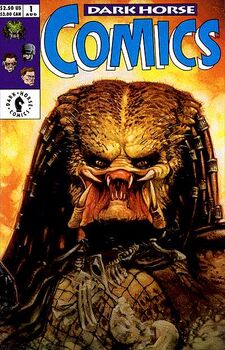 Dark Horse Comics, often abbreviated as DHC, is a 25-issue comic book anthology series that was published by Dark Horse Comics from August 1992-September 1994. It featured numerous Aliens, Predator and Aliens vs. Predator comic book stories over the course of its history, alongside stories featuring other Dark Horse properties and characters.
Overview
"Dark Horse proudly presents the newest addition to our winning stable: Dark Horse Comics! This monthly, color anthology will feature some of the hottest properties and creators in the known universe. Some of the storylines presented in the pages of Dark Horse Comics will spin off into their own monthly series. Don't miss placing your bets on this pony — it's sure to be a winner!"
―Promotional piece for Dark Horse Comics
Unlike Dark Horse Comics' concurrent, flagship anthology series, Dark Horse Presents, Dark Horse Comics was a full-color publication. It served as something of a sister publication to Dark Horse Presents, featuring works by many of the same creators or featuring the same characters and titles, except now in a color format. These two series, together with the UK-based Aliens magazine, account for the majority of Aliens, Predator and Aliens vs. Predator comic short story releases — although there have also been a handful of other one-shot and special issue short stories.
The Dark Horse Comics series was originally edited by Jerry Prosser and Diana Schutz (#1-4). It was co-edited by Prosser, Dan Thorsland and Bob Cooper for #5, who were joined by Anina Bennett for #6-7, and then by Dick Hansom from #8-9. #10 was edited by Cooper, Prosser and Hansom. Finally, following a one month break (no issue was published in June 1993), the series settled on the editing team of Randy Stradley and Edward Martin III for the remaining issues #11-25.
Contents
Note that only Aliens, Predator and Aliens vs. Predator content is listed below. The series also contained numerous other comic book stories, but these have been omitted as they are irrelevant to the franchise.
Trivia
From its entire 25-issue run, only two issues of Dark Horse Comics featured no Aliens or Predator content — #8-9.
Dave Dorman's cover for issue 1 of Dark Horse Comics is one of the most reused pieces of cover art in the Predator comics franchise, having also been used on Dark Horse Insider, Vol. 2 #8 and Total Carnage #6.
Gallery
Community content is available under
CC-BY-SA
unless otherwise noted.