We're Getting Mutants in the MCU - The Loop
Play Sound
Dark Horse Comics is an American comic book and manga publishing company based in Milwaukie, Oregon. It was founded in 1986 by Mike Richardson.[1] From 1988-2020, Dark Horse was responsible for publishing the Aliens, Predator, Aliens vs. Predator and Prometheus comic book lines, serving as the primary publisher of comics based on the Alien, Predator and Alien vs. Predator franchises for over 30 years. The company was also the publisher of Aliens and Predator novels between 2005 and 2008, via its novel imprint DH Press.
As well as its Aliens, Predator and Aliens vs. Predator comic book lines, Dark Horse was also involved in a number of crossover comics featuring the Alien and/or Predator creatures in scenarios with other comic book properties, both from within Dark Horse's own stable and involving characters from other publishing companies (most notably DC Comics). Dark Horse is currently the largest independent comic book and manga publisher in America, and is considered third in the American comics market behind perennial powerhouses DC Comics and Marvel Comics.[1]
In 2020, following the purchase of 20th Century Fox by Disney, the license to produce Aliens, Predator and Aliens vs. Predator comics moved to Marvel Comics,[2] bringing an end to Dark Horse's involvement with the franchise.
History
Formation and growth
Mike Richardson opened his first comic book store, Pegasus Books, in Bend, Oregon in 1980, and the business soon expanded to include several retail locations in Oregon and neighboring Washington State.[1] Frustrated by a perceived lack of quality in the products he was selling, Richardson began investing profits from his retail operation into producing new, original comic stories, to be released by his own publishing company, Dark Horse Comics. The company launched with two initial titles in July 1986 — Boris the Bear and an anthology series called Dark Horse Presents, but this lineup soon expanded.[1] Currently, the publisher is based in Milwaukie, Oregon. Notable properties that originated with Dark Horse Comics include Frank Miller's Sin City and 300, Mike Mignola's Hellboy, Paul Chadwick's Concrete, Stan Sakai's Usagi Yojimbo, Gerard Way's Umbrella Academy and Michael Chabon's The Escapist.
Dark Horse was founded partly with the express purpose of acquiring various movie licenses and publishing high quality adaptations and continuations of famous movie property story lines, thereby expanding on such franchises. While licensed projects had been around for decades before the formation of Dark Horse, most publishers at the time devoted few resources to titles they did not own. Dark Horse took a different approach by employing top talent and plotting stories to create comic series that were essentially sequels to popular theatrical films. This fresh approach met with enormous success, and sales of these popular titles sailed into the millions.[1] Today, Dark Horse is the acknowledged industry leader in this profitable publishing niche.[1] Over the years, the company has acquired many prominent movie licenses, including Alien, Buffy the Vampire Slayer, Conan, Indiana Jones, Planet of the Apes, Predator, RoboCop, Serenity, The Terminator, The Thing and, perhaps their most-widely known franchise, Star Wars (although these rights passed to Marvel Comics in 2015). Dark Horse also own the rights to produce comic books based on the Mass Effect video game series.
From its inception, Dark Horse has always been keen to cross over into producing movies based on its properties, and has done so with such films as The Mask (1994), Timecop (1994), Hellboy (2004) and Alien vs. Predator (2004). Dark Horse has also expanded into the publication of books and novels and has published various original novels and reference books based on its various movie series, including a number of Alien and Predator novels.
Aliens, Predator and Aliens vs. Predator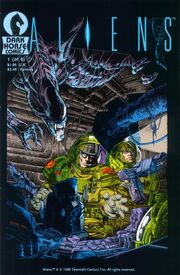 In July 1988, Dark Horse released the first issue of its first Aliens mini-series, a direct continuation of the story from James Cameron's film of the same name. Almost one year later in June 1989, Dark Horse released the first issue of the first Predator mini-series, which was likewise a development of the film of the same name. Both series were written by Dark Horse writer Mark Verheiden, and both met with enormous success, establishing long-running lines that have continued until the present day.
Dark Horse first laid the foundation for connecting the Aliens line with the Predator comics franchise at the end of 1989, in the company's flagship anthology series Dark Horse Presents; issues #34 and #35 of the series featured an Aliens and a Predator story segment, respectively, before Dark Horse Presents #36 in January 1990 brought the two preceding stories together for a third and final installment, the first ever officially lisensed Aliens vs. Predator crossover. The three-part story served as a prequel to the first full-fledged Aliens vs. Predator mini-series, which followed shortly in June 1990. Written by Dark Horse vice president, creative director and editor Randy Stradley, the original Aliens vs. Predator comic caught the comics industry by surprise, and its success spawned an industry-wide trend of creating crossovers between franchises. Today, the Aliens vs. Predator comic book line is considered a staple of the industry.[1]
In 1992, Dark Horse launched another trend when it co-published the landmark Batman versus Predator comic, a major three-issue miniseries, in collaboration with mainstream comics powerhouse DC Comics. The crossover was a huge success and paved the way for numerous other collaborations and crossovers involving the Aliens, Predator and AVP franchises, incorporating properties both from within Dark Horse and from other publishers. Like Aliens vs. Predator before it, Batman versus Predator had a profound impact on the industry and popularized the idea of inter-company comic book crossovers, inspiring many other publishers to pursue similar concepts with their own properties. Around the same time, Dark Horse also expanded across the Atlantic into the UK, taking over the existing Aliens magazine being run by Trident Comics and turning the monthly reprint publication into a professional piece packed with exclusive information and articles about the Alien franchise, as well reprints of its latest Aliens comic books.
While Aliens, Predator and Aliens vs. Predator limited series and one-shots would become infrequent at times, the lines also had a fairly consistent home in the pages of Dark Horse Presents, as well as the color sister-anthology Dark Horse Comics. Aliens, Predator and Aliens vs. Predator stories were published regularly between 1988 and 1999, but, following the Xenogenesis crossover event, all three lines entered a ten-year hiatus during the 2000s, the only new comics released during this time being a handful of one-shot Alien vs. Predator film spin-off titles and several non-canon crossovers.
Omnibus, relaunch and the digital domain
In 2007, the company began producing definitive Omnibus trade paperback editions that collected pre-existing releases from many of its major properties into easily-accessible volumes, published via its Dark Horse Books imprint. These Omnibus editions included volumes for the Aliens, Predator and AVP comic lines. In all, six volumes of Aliens Omnibus were released, four volumes of Predator Omnibus, and two volumes of Aliens vs. Predator Omnibus. While comprehensive, these Omnibus titles were not utterly exhaustive and a handful of comics, chiefly from the Aliens line, remain uncollected.
In 2009, Dark Horse ended its hiatus on Aliens, Predator and Aliens vs. Predator titles and began a relaunch of all three lines with the Free Comic Book Day: Aliens/Predator flip-book issue, which in turn led to new Aliens and Predator limited series in 2009 — Aliens: More Than Human and Predator: Prey to the Heavens — followed by a new Aliens vs. Predator series, Three World War, in 2010. The comics have continued to be published since, although with markedly less frequency and regularity than during the lines' heyday in the 1990s.
From 2013 onwards, Dark Horse began issuing its back-catalogue of Aliens, Predator and Aliens vs. Predator comics in the digital format via its Dark Horse Digital branch, making them available on virtually any electronic platform capable of supporting a web browser. More recent comic book releases have also seen digital releases put out simultaneously with the traditional physical format.
Prometheus and 30th anniversary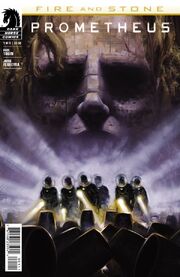 In 2014, Dark Horse added a fourth comic book line to the combined Alien and Predator universe, marking the first meaningful expansion of the comics franchise since the original Aliens vs. Predator story hit shelves 25 years previously. The new Prometheus line, based on the film of the same name, was launched with the Fire and Stone crossover event, which included releases from all four lines sharing a single story set on the planet from Prometheus, LV-223.
In 2016, the company celebrated its 30th year of operation. To mark the event, Dark Horse ran a year-long 30th anniversary variant cover program whereby each month, one comic received a special variant cover by a classic Dark Horse Comics artist that paid homage to a specific back issue of the long-running anthology Dark Horse Presents. As part of this program, Predator: Life and Death, Aliens: Defiance, Prometheus: Life and Death and Alien vs. Predator: Life and Death all received special variant covers for their first issues.
Cessation of license
In July 2020 it was announced that, following the purchase of 20th Century Fox by Disney, the license for producing Alien, Predator and Alien vs. Predator comics would move to Marvel,[2] bringing Dark Horse's involvement with the franchise to an end after more than 30 years. In the wake of the announcement, Dark Horse confirmed that several of their ongoing series would be affected by the change in ownership, although most would still see completion in some form.[3]
Over the years it produced the lines, Dark Horse published a large number of Aliens, Predator, Aliens vs. Predator and Prometheus comics in the form of limited series, short stories and one-shots, which were in turn collected variously in trade paperback form. In total, Dark Horse published 72 Aliens stories, 41 Predator stories, 25 AVP stories, 4 Prometheus stories and 29 miscellaneous crossovers with other comics lines.
Subsidiaries
Dark Horse International
In the early 1990s, Dark Horse established a UK-based branch, Dark Horse International, responsible for publishing the company's material for the British market. Dark Horse International was primarily responsible for producing Aliens magazine, and also produced the anthology magazine Total Carnage in which it serialised Predator and Aliens vs. Predator comics. The branch went out of business in 1994, resulting in the cancellation of its publications.
Dark Horse Books
Established in 1995, the Dark Horse Books imprint is responsible for the publication of books related to the company's comic book media, including trade paperbacks such as the Aliens, Predator and Aliens vs. Predator Omnibus titles. The imprint also publishes graphic novels.
DH Press
DH Press is the imprint of Dark Horse responsible for publishing original novels. DH Press was responsible for publishing Aliens and Predator novels between 2005 and 2008. Following the publication of Aliens: No Exit and Predator: South China Sea in 2008, the rights to publish Alien/Predator/Alien vs. Predator novels, including original works, moved to Titan Books.
Dark Horse Digital
From 2011 onwards, Dark Horse has also released its comic books in the digital format through its subsidiary Dark Horse Digital. Over the course of 2013, the vast majority of pre-existing Aliens, Predator and Aliens vs. Predator comics were made available in the digital format through Dark Horse Digital's web store, whilst new comics have seen simultaneous digital releases alongside the traditional physical issues.
Feature Film Adaptations
The following is a list of feature films that are based on Dark Horse Comics properties.
Trivia
Dark Horse has a particular association with director James Cameron and his feature films, having produced a comic book adaptation of The Abyss and long-running comic lines based on Aliens and The Terminator.
While the vast majority of Alien and Predator comics have been published by Dark Horse, there are exceptions — most notably the comic book adaptation of the film Alien, which was created by Heavy Metal Communications in 1979 (before Dark Horse Comics actually existed).
Publisher and founder Mike Richardson is often credited as an Executive Producer on feature film adaptations of Dark Horse properties.
Chris Warner, who was the artist on the first Predator miniseries in 1989, was elevated to the position of editor of all three Aliens, Predator and Aliens vs. Predator lines in 2009.
Gallery
External Links
References