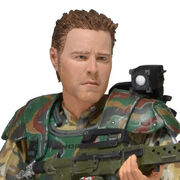 Sergeant Craig Windrix was a member of the United States Colonial Marine Corps[1] presumably in 2179.
Equipment
Sgt. Windrix carried an M240 Incinerator Unit as his primary weapon. Windrix was outfitted with standard issue M3 Pattern Personal Armor and an M10 Pattern Ballistic Helmet for protection; his armor was fitted with a TNR Shoulder Lamp attachment for illumination. On the front of his armor vest, he had customized it with a red heart design with "DAO" inside of it and added what appeared to be an eagle pin to the strap over the right side of his vest. On the back of his vest, Windrix had customized it with designs of a penguin holding ice cream, bowling pins and a bowling ball with "CRW" on it and a face. His left shoulder pad had also suffered some damage and appeared to have bullet holes in it. He also carried an M314 Motion Tracker with sling and an ME3 Hand Welder which he kept attached to his belt.[1]
Behind the scenes
The Sgt. Windrix NECA figure was created as a tribute to NECA employee Kyle Windrix's brother, Craig Windrix, who was battling stage 4 stomach cancer.[2] Craig passed away the morning of February 6, 2014.[3]
References