Clive Curtis is a British stunt performer, stunt coordinator[1] and actor who was Ricco Ross' stunt double as Private Frost in the 1986 film Aliens.[2][3] Curtis was also Yaphet Kotto's stunt double as Parker in the 1979 film Alien, although his scenes were cut from the final film.[4] Other notable films Curtis has appeared in include Superman II (1980), Batman (1989), Robin Hood: Prince of Thieves (1991), Harry Potter and the Deathly Hallows – Part 2 (2011) and several films in the James Bond series.[5]
Work
Alien
The end sequence of the film was to be a big fight scene between the Alien and Yaphet Kotto as Parker, whom Curtis doubled for. However, after shooting the sequence, the "powers to be" decided not to use it for fear of upstaging the image of the Chestburster bursting from Kane's chest, thus it was not used.[4]
Aliens
When Curtis was offered the job on Aliens, it was a job he very much wanted to do and he felt totally comfortable with what was required of him as he had done fire jobs before. Curtis was on set for about a week before he did his job, thus feeling like "a part of the team." Curtis found the camaraderie on set "to be absolutely magical." and thought that "We had a wonderful team of people."[2]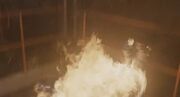 According to call sheet number 6, Curtis was responsible for the fire stunt (Sc. 92) filmed on October 7, 1985,[3][2] which Curtis said he "could foresee it would look spectacular,".[2] For the stunt, Curtis did not wear a breathing apparatus, but wore a fire suit with the costume on top.[2] He was set alight then had to find his way (acting all the time) completely blinded by the flames and not breathing for about 15 feet before hitting the railing which stood about 3-4 feet in height before falling approximately 8 feet on to the section to be put out by his colleagues.[2] According to Curtis, "If my memory serves me right, I do believe we had either two or three takes."[2]
Filmography
Year
Title
Notes
1977
The Spy Who Loved Me
Uncredited; with Nick Gillard, Eddie Powell and Roy Scammell
1978
The Wild Geese
Uncredited
1979
Escape to Athena
Uncredited
1980
Superman II
Uncredited
1981
For Your Eyes Only
Uncredited; with Charles Dance, Nick Gillard, John Lees, Eddie Powell and Roy Scammell
An America Werewolf in London
With Brian Glover
Outland
Uncredited; with Stuart Milligan
1983
Octopussy
With William H. Burton, Jr., Eddie Powell and Tip Tipping
Superman III
With Helen Horton and Al Matthews
Never Say Never Again
Uncredited; with Eddie Powell and Tip Tipping
1984
Top Secret!
With Mac McDonald and Eddie Powell
Sheena
With Roy Scammell
1985
Water
Spies Like Us
Brazil
With Ian Holm and Tip Tipping
A View to a Kill
Uncredited; with Simon Crane, Eddie Powell and Trevor Steedman
1986
Aliens
Uncredited
1987
Good Morning Vietnam
1989
Batman
With Carl Chase, Simon Crane, Christopher Fairbank, Leon Herbert, Mac McDonald, Mark Anthony Newman, Eddie Powell and Tip Tipping
1991
Riff-Raff
Robin Hood: Prince of Thieves
With Simon Crane, Nick Gillard, Mark Anthony Newman, Eddie Powell, Denise Ryan, Tip Tipping and Michael Wincott
Young Soul Rebels
With Nick Gillard and Mark Anthony Newman
1992
The Runner
The Crying Game
With Ralph Brown
1993
In the Name of the Father
With Phil Davis and Pete Postlethwaite
1994
Shallow Grave
Captives
Four Weddings and a Funeral
Shopping
1996
Hollow Reed
1997
My Son the Fanatic
The Man Who Knew Too Little
With J. E. Freeman and Trevor Steedman
Shooting Fish
1998
Speak Like a Child
1999
Simon Magnus
With Ian Holm
2000
Shiner
With Danny Webb
2004
Thunderbirds
With Deobia Oparei and Bill Paxton
2005
Manderlay
With Danny Glover and John Hurt
Sahara
With Mark Anthony Newman and Florian Robin
Brothers of the Head
With Sean Harris
2011
Harry Potter and the Deathly Hallows — Part 2
With John Hurt and C. C. Smiff
2012
Skyfall
With Vladimir "Furdo" Furdik
2013
Fast & Furious 6
2014
Most Welcome 2
Get Santa
With Ewen Bremner and Rafe Spall
Kingsman: The Secret Service
With James Embree, Corey Johnson and Shane Steyn
2015
Avengers: Age of Ultron
Trivia
Gallery
See Also
External Links
References
Community content is available under
CC-BY-SA
unless otherwise noted.