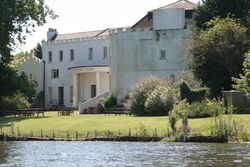 Bray Studios is a small British film and television studio situated in Bray, near Maidenhead, Berkshire, approximately 25 miles (40 km) west of central London. The model and miniature filming for the film Alien was shot at Bray. The studio is perhaps best known for its association with Hammer Films, as well as being the filming location for The Rocky Horror Picture Show. The site includes four stages, plus offices and workshops.
History
Hammer originally leased country houses in which to shoot films, until the company eventually purchased Down Place on the banks of the Thames near Bray. After using every room and angle in its films, it later enlarged the house into the Bray Studios of today. The last Hammer production made at Bray was The Mummy's Shroud, which wrapped on October 21, 1966. Hammer sold the studio in November, 1970. Bray Studios continues to host television, film work and band rehearsals today.
The studio has recently come under threat of redevelopment into a residential area under the current owner, who has claimed there is no call for the studio any more, despite having refused a number of applications by productions to use the facilities. A pressure group is currently trying to save the studio.[2]
Gallery
External links
References