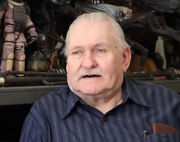 Bob Burns III (born May 12, 1935) is an actor, consultant, producer, archivist and historian of props, costumes and other screen-used paraphernalia from science fiction, fantasy and horror motion pictures. He is best known for his work with and collection of movie props, particularly from horror and science-fiction movies,[1] including an extensive collection of props from the Alien franchise. Burns' collection, known as Bob's Basement, has been described by The New York Times as the "premier film museum in the Los Angeles area, though it is not open to the public and has no regular hours".[1]
Burns' Alien pieces include the head of the Alien from Alien, the full-sized Queen head from Aliens (also reused in Alien Resurrection) and the shooting model of the USS Sulaco. Much of his collection can be seen as part of the documentary Aliens in the Basement: The Bob Burns Collection.
Alien Props
Note: Incomplete
Gallery
References
↑ 1.0 1.1 Kehr, Dave. "A Creepy Stash of Movie Magic, Lovingly Amassed", 18 February 2007. Retrieved on 23 July 2010.

 
Community content is available under
CC-BY-SA
unless otherwise noted.