"We're in a war zone, Dave."
―Lemieux (from Predator 2)
Bill Lemieux[2] was a news reporter working for KNLA 3 who followed the escalating gang violence in Los Angeles in 1997.[1]
Biography
Lemieux was no stranger to war zones; before covering the raging gang warfare in Los Angeles, Lemieux had reported on the urban conflict in Bogotá, Colombia.[2] He had also worked in Rio de Janeiro in Brazil and Buenos Aires in Argentina. He shared a particularly strong rivalry with fellow reporter Tony Pope, who resented Lemeieux for his greater experience in foreign correspondence, particularly with regard to his war zone coverage.[2]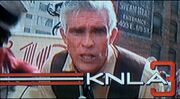 Lemieux was present when several heavily armed Colombian Scorpions engaged SWAT officers from the Los Angeles Police Department after two motorcycle cops were shot when they stumbled upon a drug deal. Despite the carnage raging all around, Lemieux stood his ground and delivered a report to his network, KNLA 3.
Trivia
Appearances
References
↑ 1.0 1.1 Jim Thomas, John Thomas (writers), Stephen Hopkins (director). Predator 2 (1990), 20th Century Fox [DVD].
↑ 2.0 2.1 2.2 Simon Hawke. Predator 2, p. 5 (1990), Jove Books.