| | |
| --- | --- |
| | This article covers a licensed crossover event that has been deemed non-canon by either the author or the Alien vs. Predator licensees, and thus should not be taken as a part of the "real" Alien vs. Predator universe. |
Batman versus Predator II: Bloodmatch, originally titled Batman versus Predator II, is a four-issue limited crossover comic book series that was first published by DC Comics and Dark Horse Comics from December 1993-March 1994. It was written by Doug Moench, pencilled by Paul Gulacy, inked by Terry Austin, colored by Digital Chameleon, Carla Feeny and Lovern Kindzierski, lettered by Todd Klein and edited by Michael Eury, Scott Peterson, Mike Carlin, Diana Schutz, Marilee Hord, Jenette Kahn and Darren J. Vincenzo, with cover art by Jackson Guice, Gulacy and Austin.
Bloodmatch was a sequel to 1991's wildly popular Batman versus Predator, and was followed by the further sequel Batman versus Predator III: Blood Ties.
In the overall Dark Horse crossover comics line, Batman versus Predator II: Bloodmatch was preceded by Predator versus Magnus, Robot Fighter, and was followed by Superman vs. Aliens.
Publisher's Summary
#1: Months ago, Batman narrowly defeated an alien hunter that terrorized Gotham City. In return, the creature's species vowed never again to use the Dark Knight's city as its hunting grounds... But a reckless young Predator with dreams of glory has chosen to break that vow and renews the hunt, seeking to overthrow the upstart human "Champion". While Batman is stalked by the Predator, hired assassins of a Gotham crimelord are also after the Dark Knight. Into this deadly game is drawn the Huntress and a duo of Predators seeking to salvage their race's honor by stopping the young rogue.
#2: Batman goes hand-to-hand with the renegade Predator while Commissioner Gordon lies in a coma. On the trail of both combatants is the Huntress... who arrives too late to save the Dark Knight from defeat in the first battle of this deadly war!
#3: The odds shift when Batman constructs a device that enables him to see the Predator despite the alien's invisibility. But that tactical advantage may prove short-lived when two more Predators arrive in Gotham City!
#4: Batman and the Huntress risk their lives in the final confrontation with the young turk Predator.
Plot
In the aftermath of the events from Batman versus Predator, the Predators return to Earth to settle the score with the Caped Crusader, who is this time joined in the battle with the female superhero the Huntress. But Batman is already facing off against some of the deadliest human killers he's ever had to face.
Reprint History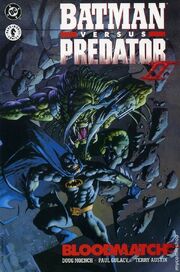 After its initial publication under the original title Batman versus Predator II, the series received its current title, Batman versus Predator II: Bloodmatch, when it was collected as a trade paperback in January 1995, edited by Bob Kahan and Lynn Adair and featuring a new cover by artist Simon Bisley.
Batman versus Predator II: Bloodmatch was collected again as part of the DC Comics/Dark Horse Comics: Batman vs. Predator trade paperback, alongside the related stories Batman versus Predator and Batman versus Predator III: Blood Ties. The collection was released in June 2017 and featured cover art by Mike Mignola.
Behind the Scenes
Veteran comics writer Doug Moench has worked on numerous titles throughout his career including Shang-Chi Master of Kung-Fu for Marvel Comics and on Detective Comics for DC.
Artist Paul Gulacy has had a similarly full career in comics, often collaborating with Moench on Batman work and elsewhere.
Trade paperback edition cover artist Simon Bisley is famous for his work with Heavy Metal magazine, on the British comics character Judge Dredd, and on DC Comics' Lobo, among others. He also illustrated the story Aliens: Reapers and the cover of Dark Horse Presents: Aliens for Dark Horse.
Gallery
Issue covers
Other
Community content is available under
CC-BY-SA
unless otherwise noted.