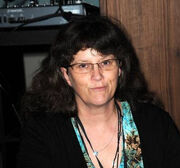 Barbara Randall Kesel is an American comic book writer and editor worked on several comic books in Dark Horse Comics' Aliens and Aliens vs. Predator lines. She is the ex-wife of comics artist Karl Kesel.
Biography
Kesel succeeded editor Diana Schutz and continued Schutz' popular Bug Hunt letter column in the back pages of the Aliens and AVP series in her time.
She worked on a total of 5 comics releases for the three lines.
A well-known veteran of the comics industry, Kesel is prominent for being one of the first women editors at mainstream companies like DC Comics and Marvel.
Credits
Writer
Editor
Aliens
Aliens vs. Predator
Community content is available under
CC-BY-SA
unless otherwise noted.