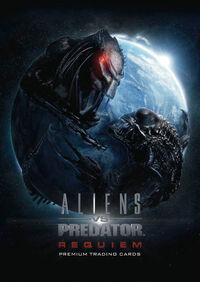 Aliens vs. Predator: Requiem Premium Trading Cards are a 2007 81-card trading card set based on the film Aliens vs. Predator: Requiem, published by Inkworks.
Overview
The trading cards are arranged into three main subsets:
8 "Characters" cards, showcasing the characters in the film.
69 "Story" cards, which include a narrative of the film.
2 "Behind the Scenes" cards, which feature behind the scenes images and information from the production.
The set also features a title card and a special text-only "Checklist" card.
Chase cards
To coincide with the Aliens vs. Predator: Requiem trading cards, Inkworks also published several sets of limited edition chase cards, including:
Artists who contributed original artwork for the Sketch cards were Kristin Allen, Kate "Red" Bradley, Daniel Cooney, Cynthia Cummens, Mark Dos Santos, Kevin Graham, Ingrid Hardy, Lee Kohse, Randi LeeAnn, Rich A. Molinelli, Chris Moreno, Rafael Navarro, David Rabbitte, Tone Rodriguez, Matt Wendt and Jeff Zugale.
References