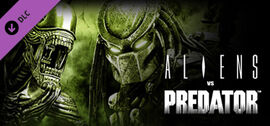 Aliens vs. Predator: Bughunt Map Pack is an expansion pack for the 2010 game Aliens vs. Predator. It contains two multiplayer maps and two Survivor maps.
Maps
Crashsite
Built for all game types except Survivor, Crashsite is an outdoors map placing players in a jungle swamp dominated by a crashed dropship. Radiating away from the swamp is a waterfall overlooking an expansive vista, which is part of a large "ring" of playable area that surrounds the central swamp, with connecting spokes to aid player movement through the map.
Furios
Built for all game types except Survivor, Furious is an arena style map placing players in a central cylinder-shaped area dominated by a huge active furnace in the center.
Tempest
Built for Survivor only, Tempest is an outdoor map which places players in the civilian colony on a dark and stormy night. In addition to the never ending Xenomorph swarm, players must also contend with the constant rainstorm battering the colony, with intermittent flashes of lightning illuminating the environment to show the Marines' attackers bearing down on them. After each wave is completed, the fog rolls in for the start of the next round as ghostly shapes begin to stalk the player.
Monument
Built for Survivor only, Monument is an outdoor map set in a previously unseen monument honoring Lord. With geometry designed to suit Xenomorph navigation, Monument provides a challenge to players who are already familiar with Survivor. Xenomorphs can appear from any direction, and if the player stands still for too long they become vulnerable to the Xenomorph "spitters" who are present in this level.
Community content is available under
CC-BY-SA
unless otherwise noted.