Aliens vs. Predator: Booty, also known as Aliens versus Predator: Booty, is a 12-part comic book story that was first published by Dark Horse Comics and Diamond Comic Distributors in Diamond's Previews, Vol. 5 #2-Vol. 6 #2, from February 1995-January 1996. It was written by Barbara Kesel, pencilled and inked by Ron Randall, colored by Chris Chalenor, lettered by Steve Dutro and edited by Bob Cooper, Edward Martin III and Marilee Hord. The story features a pair of Predators who intercept a cargo of Xenomorphs and a Queen aboard a spaceship bound for the space research station Innominata (from Aliens: Labyrinth), and three human crew members who get caught in the midst of the resulting battle.
In the Aliens vs. Predator comics line, Aliens vs. Predator: Booty was preceded by Aliens vs. Predator: Blood Time, published concurrently with Aliens vs. Predator: Deadliest of the Species, Aliens vs. Predator: Duel and Aliens vs. Predator: War, and was followed by Dark Horse Classics - Aliens versus Predator.
Publisher's Summary
One-shot
The Colonial Marines — or people posing to be them — have captured a live Alien Queen! But when pirate Predators attack the Marines, even the toughest fighters in the galaxy might not be able to hold on to her! Enter Evie, Shel, and Norley, three ordinary, if well-armed, human beings who get caught in the ensuing crossfire. By the time they realize that they're really just extras in the big battle scene, it may be too late to escape from the savagery of either the Aliens or the Predators!
Reprint History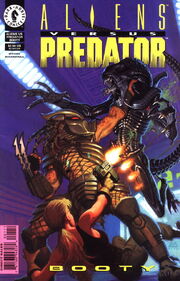 Following the comic's original serialization in Previews, it was collected and released as a one-shot by Dark Horse Comics, under the slightly altered title Aliens versus Predator: Booty, in January 1996, with cover art by Den Beauvais.
Aliens vs. Predator: Booty was collected again as part of Aliens vs. Predator Omnibus: Volume 2 in October 2007.
Aliens vs. Predator: Booty was released digitally through Dark Horse Digital on March 6, 2013, reusing Den Beauvais' cover art from the one-shot.
Behind the Scenes
Booty writer Barbara Kesel has worked primarily as an editor in the comic book industry, which is the role she typically served in for Dark Horse's Aliens and Aliens vs. Predator lines. Booty represented her first foray into writing an AVP story.
Ron Randall was also artist on the seminal Predator series Predator: Cold War and Predator: Dark River.
Trivia
Booty is one of two Aliens/Predator/Aliens vs. Predator comics to originally appear in Diamond Comic Distributors' Previews catalogue; the other is Aliens: Earth Angel. Both were released as one-shots by Dark Horse shortly after their original run concluded.
Gallery
External Links
Community content is available under
CC-BY-SA
unless otherwise noted.