Jurassic World: Dominion Dominates Fandom Wikis - The Loop
Play Sound
Aliens vs. Predator: Blood Time is a comic book short story that was first published by Dark Horse Comics in the company's self-titled anthology series Dark Horse Comics #25, in September 1994. It was written by Randy Stradley, illustrated by Phill Norwood, colored by Frank Lopez, lettered by Vickie Williams, and edited by Stradley and Edward Martin III. The issue of Dark Horse Comics also featured an Aliens vs. Predator cover by Paul Mendoza, Russ Heath and Jim Royal.
In the Aliens vs. Predator comics line, Aliens vs. Predator: Blood Time was preceded by Aliens vs. Predator, published concurrently with Aliens vs. Predator: Deadliest of the Species, and was followed by Aliens vs. Predator: Booty.
Publisher's Summary
Also in this issue, Randy Stradley and Phill Norwood bring you "Aliens vs. Predator: Blood Time," a violent glimpse into alien rites of passage. The price of failure is death!
Plot
On an unknown planet, an initiation hunt led by Clan Leader Top-Knot was held for nine young Yautja hoping to claim their first Xenomorph kill. Among these hunters was the rash and ill-tempered Two-Stripes. As the hunters scour the planet for traces of Xenomorph activity, fellow hunter Light-Stepper finds a Chestbursted corpse, indicating the presence of Aliens nearby. Two-Stripes bitterly kicks Light-Stepper over and claims to Top-Knot that he had found the body, which he acknowledges.
The nine hunters set off to collect their first trophies. Unknown to Light-Stepper, Two-Stripes decided to tail his rival. Two-stripes watches on as Light-Stepper is attacked by a Drone. A bloody battle ensues, and Light-Stepper eventually defeats the creature, at the cost of being seriously wounded. Two-Stripes suddenly moves in and claims Light-Stepper's kill, grabbing the Alien's head for his own and leaving Light-Stepper for dead.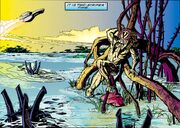 Upon returning to Top-Knot, Two-Stripes is horrified to see that Light-Stepper was retrieved and brought to the clan leader. As punishment for his treachery, Two-Stripes is stripped and marooned on the planet, leaving him at the mercy of the Xenomorphs.
Characters
Reprint History
Aliens vs. Predator: Blood Time was first collected with other stories in the trade paperback release of Aliens/Predator: War in May 1996.
The story was reissued again in the limited-release promotional comic Aliens vs. Predator: Special Collector's Edition in 2010, included exclusively with copies of the Hunter Edition of the video game Aliens vs. Predator.
The story was collected as part of Aliens vs. Predator Omnibus: Volume 1 in June 2007.
The comic was released digitally through Dark Horse Digital on January 9, 2013, collected with the original Aliens vs. Predator series and reusing Phill Norwood's cover art from the Aliens vs. Predator trade paperback release.
Celebrating the 30th anniversary of Dark Horse Comics, the story was collected again as part of the Dark Horse Day 2016 Sampler, published in June 2016. Duncan Fegredo created the wraparound cover, which featured a selection of Dark Horse characters, including the Alien and the Predator.[1]
The comic was collected and released again as part of Aliens vs. Predator: The Essential Comics Volume 2, released on August 5, 2020.
Gallery
References