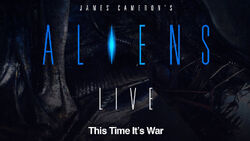 Aliens Live was a special screening of Aliens held at the Royal Albert Hall in London, England on November 6, 2016, as part of the venue's Films in Concert programme. As with other screenings from the Films in Concert series, the movie was accompanied by a live concert performance of its soundtrack, performed by the Royal Philharmonic Concert Orchestra. The film was shown in its extended Special Edition cut.
The one-off event was dedicated to the film's composer James Horner, who had passed away the previous year, and consisted of two screenings of the movie, a matinee performance and an evening performance attended by James Cameron, Sigourney Weaver and Gale Anne Hurd.[1] The orchestra for the event was conducted by Ludwig Wicki.[2] A special commemorative booklet was also produced, containing behind the scenes images from the film, articles on its production and interviews with the cast, crew and personnel involved in the live performances.
Overview
The Aliens Live event was organized to coincide with the 30th anniversary of Aliens.[2] The showing consisted of a specially-prepared cut of the film's extended Special Edition with James Horner's score removed, allowing the Royal Philharmonic Concert Orchestra to perform the music live alongside the movie, conducted by Ludwig Wicki.[2]
References
↑ "Royal Albert Hall - Your photos and reactions: Aliens celebrates 30 years with a screening with live orchestra, attended by three very special guests!". Retrieved on 2017-08-30.
↑ 2.0 2.1 2.2 "Royal Albert Hall - Aliens Live". Retrieved on 2017-08-30.