Wiki Targeted (Entertainment)
Play Sound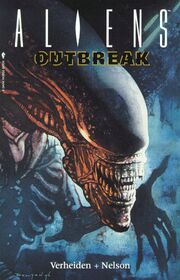 The Aliens Library Editions are a series of "remastered" comic book trade paperback reprints that were published by Dark Horse Comics from 1996-1997. The Library Editions were an attempt by Dark Horse at reissuing all of the major pre-existing Aliens comics series in a uniform format, making them readily accessible to readers once more and also bringing several of the comics in line with events portrayed in the third film of the Alien franchise, Alien3. Each of the comics was re-edited for its Library Edition and each featured new cover art by John Bolton.
Overview
As well as simply offering affordable trade paperback reissues of Dark Horse's previously released Aliens comics, the Library Editions series also sought to bring the content of these comics in line with the updated continuity presented by Alien3. Thus, several of the early stories were edited, changing the identities of several central characters — who had since died in the third film — to match those introduced in the 1992 novelization of Aliens: Outbreak (Aliens: Earth Hive by Steve Perry). Specifically, Corporal Hicks became Wilks and Newt became Billie. By implementing these changes, the comics could once again co-exist with the film series; virtually all subsequent reprints of these comics have used these updated characters.
Other alterations were also made — the comics were re-edited by Lynn Adair, Suzanne Taylor and Jamie S. Rich, and several received new titles. Aliens: Outbreak was colored for the first time (all previous releases had been in black and white), while Female War also received a recolor, by original illustrator Sam Kieth. New cover art in a uniform style was provided by acclaimed British artist John Bolton.
It is not clear why the Library Editions series ended after eight volumes (with Aliens: Stronghold), as other major series were published between Stronghold and the release of the first Library Editions in 1996. Most notably Aliens: Frenzy (originally published in 1995) was omitted, despite being positively received by fans of the series. In fact, Frenzy did not see a collected trade paperback release until it was included in Aliens Omnibus: Volume 4 in July 2008.
Aliens Library Editions Comics
Trivia
Although not officially a part of the Library Editions series, the trade paperback collection of Aliens: Kidnapped featured a cover by Bolton in a similar style.
Gallery