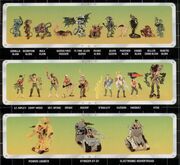 The Kenner Aliens toys were a 1992 line of action figures and accessories based on the Alien franchise, chiefly the 1986 film Aliens. The toys were originally intended to tie into the children's animated series Operation: Aliens, but when the cartoon was cancelled the toys were re-branded as simply Aliens products and went on sale regardless.[1] A total of four series were released before the toy line was cancelled in 1995.[2]
Several of the Aliens figures came packaged with exclusive Aliens: Space Marines mini-comics published by Dark Horse that told stories relating to the individual characters. Along with its Aliens toys, Kenner also produced a line of Predator figures.
Overview
The figures came in one of two "factions" — the humans, consisting of Lieutenant Ellen Ripley and the "Space Marines", and the Xenomorphs they face. Many of the Marine figures were based on characters from Aliens (albeit highly fictionalized), while the Xenomorphs came in a variety of altered forms, based on the creature's ability to inherit physical traits from its host species.
Some of the Kenner Aliens figures went on to appear in other media — the Gorilla Alien, Snake Alien and Flying Queen all appear as boss enemies in the video game Alien vs Predator on the SNES, while several others appeared or were mentioned in the Operation: Aliens trading card comic. Several of the Kenner toys would later be repainted and released under the Aliens: Hive Wars moniker through Kay Bee Toys, along with several previously unreleased figures.
As part of Alien Day 2016, collectible toy company NECA released a "remake" of the Kenner Ripley figure; a repaint of their previous Aliens Ripley using the bright color scheme of the original figure, as well as packaging reminiscent of the original.
Aliens: Hive Wars
Main article: Aliens: Hive Wars
In 1998, several years after Kenner ceased production of its Aliens toys, the company briefly produced a new line named Aliens: Hive Wars line, which — despite its name — included Predator figures as well as Alien and Marine characters. These toys were sold exclusively by Kay Bee Toys.
Products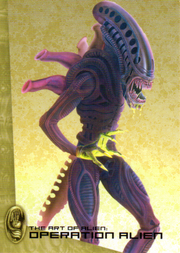 Series 1
Series 2
Series 3
Pvt. Hudson (UK exclusive)
Killer Crab Alien
Arachnid Alien
Panther and Night Cougar Alien
Panther Alien
Pvt. Vasquez (UK exclusive)
Wild Boar Alien
O'Malley
Series 4
Bull Alien
Swarm Alien
King Alien
Rhino Alien
Mantis Alien
Snake Alien
Gorilla Alien
Warrior Alien (translucent blue)
Alien vs. Marine
Hicks vs King Alien
Hudson vs Scorpion Alien
Vasquez vs Cougar Alien
Drake vs Arachnid Alien
O'Malley vs Queen Facehugger
Other
Collector's case (contains 12 figures)
Queen Hive playset
Trivia
Several Kenner Aliens figures were given away as part of a contest run in Aliens magazine, Vol. 2 #14.
Gallery
See Also
References
↑ "Future War Stories - FWS Military Sci-Fi Oddities: Operation: ALIENS Cartoon Series (1992)". Retrieved on 2015-07-29.
↑ "Toy Archive - Aliens". Retrieved on 2015-07-13.
Community content is available under
CC-BY-SA
unless otherwise noted.