Aliens: Stronghold, also known as Aliens, Vol. 8: Stronghold, is a four-part limited comic book series that was first published by Dark Horse Comics from May-September 1994. It was written by John Arcudi, illustrated by Doug Mahnke, inked by Mahnke and Jimmy Palmiotti, colored by Perry McNamee, lettered by Ellie De Ville and edited by Ryder Windham, with cover art by Mahnke. The story takes place after the creation of Norbert, the first synthetic Xenomorph, by Dr. Mayakovsky.
In the Aliens comics line, Aliens: Stronghold was preceded by Aliens: Music of the Spears and published concurrently with Aliens: Colonial Marines and Aliens: Mondo Pest; the unreleased comic Aliens: Matrix was also due to be published concurrently. Stronghold was followed by Aliens: Frenzy.
Publisher's Summary
#1: On an apparently routine supply run, Philip and Joy Strunk deliver a shipment of synthetic photo receptors to Caspar Nordling, biotechnologist for Grant Corporation. When the Strunks discover that Nordling's experiments have exceeded Stanislaw Mayakovsky's work (as seen in Aliens: Hive), they realize that there's more to Nordling — and the Aliens — than meets the eye. No one will want to miss this off-beat, high-action thriller from the writer/artist team that brought you The Mask and The Mask Returns!
#2: After watching Caspar Nordling conduct nearly sadistic experiments on an Alien Chestburster, Philip and Joy Strunk question Nordling's motivations, and consider bringing the scientist up on charges. But will Nordling's synthetic Alien allow them to do it? The suspense mounts!
#3: When you mix the fierce intensity of the Aliens with the twisted minds of John Arcudi and Doug Mahnke, the team currently responsible for the lunacy of The Mask, you can expect that all of the questions you were ever afraid to ask would finally be answered! Can an Alien truly appreciate a hand-rolled, long-filler Cuban cigar? Now you'll know!
#4: Rebellious androids, secret investigators, and escaped Xenomorphs! It looks as though Casper Nordling's perfect world is about to collapse, but Nordling may still have an ugly trick up his sleeve.
Reprint History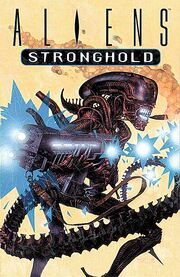 The series was later collected and published as a trade paperback in July 1996, edited by Lynn Adair with a new cover by Duncan Fegredo.
The second collected edition, released in July 1997, was retitled Aliens, Vol. 8: Stronghold. This release was part of Dark Horse's "remastered" Aliens Library Editions series — reprints that attempted to bring the content of all of Dark Horse's previously released Aliens comics in line with the updated continuity presented by Alien3. The Stronghold trade paperback was edited by Jamie S. Rich and featured a new cover by John Bolton. Stronghold would prove to be the last Aliens comic collected as part of the Aliens Library Editions (although the Aliens: Kidnapped trade paperback would later feature a similarly-styled cover by Bolton).
Aliens: Stronghold was collected again as part of Aliens Omnibus: Volume 4 in July 2008.
The complete comic was released digitally through Dark Horse Digital on April 24, 2013, reusing Fegredo's cover art from the trade paperback release.
Behind the Scenes
On Stronghold, veteran Aliens, Predator and Aliens vs. Predator writer John Arcudi teamed with his longtime collaborator artist Doug Mahnke. The two had previously worked together as the first creative team on Dark Horse Comics' original hit cross-over property The Mask in the 1980s.
Arcudi is a veteran writer of Aliens and Predator comics, having also worked on Predator: God's Truth, Predator: Big Game, Aliens: Reapers, Aliens: Genocide, Aliens: Alien, Aliens: Alchemy, Aliens: More Than Human and Predator: Prey to the Heavens.
Artist Mahnke is well known for also going on to become a successful artist on DC Comics' Justice League series, as well as others.
Gallery
Issue covers
Other