Aliens: Lucky is a comic book short story that was first published by Dark Horse Comics in the special anniversary anthology series A Decade of Dark Horse #3, in September 1996. It was written by Mark Verheiden, illustrated by Mark A. Nelson, colored by Chris Chalenor, lettered by Willie Schubert, and edited by Randy Stradley. The issue of A Decade of Dark Horse also featured an Aliens cover by Nelson.
In the Aliens comics line, Aliens: Lucky was preceded by Aliens: Mondo Heat, and was followed by Aliens: Lovesick.
Publisher's Summary
Mark Verheiden and Mark A. Nelson's Aliens is a landmark in comics history — that project redefined the entire concept of licensed comics and terrified an entire generation of comics readers in the process. Now they're back with an all-new Aliens tale for Dark Horse's tenth-anniversary celebration.
Plot
An unscrupulous crewman struggles to survive aboard a large, Alien infested ship.
Reprint History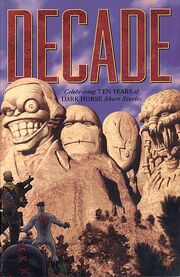 Aliens: Lucky was first reprinted in the Decade: A Dark Horse Short Story Collection trade paperback in April 1997, with a cover by Dave Gibbons featuring a spoof of Mount Rushmore made up of various Dark Horse characters, including the Predator. The release included all of the stories from the four original issues of A Decade of Dark Horse.
The comic was collected again as part of Aliens Omnibus: Volume 5 in October 2008.
The comic was released digitally through Dark Horse Digital on June 26, 2013, collected with Aliens: Incubation and Aliens: Taste and reusing Bernie Wrightson's cover art from Dark Horse Presents #101.
The comic was collected and released again as part of Aliens 30th Anniversary: The Original Comics Series, released on April 26, 2016 as part of Alien Day. This version was a hardcover, "oversized" (8 × 12) format collector's edition, featuring the original, unedited 1988 version of Aliens: Outbreak (including the original characters of Hicks and Newt). The collection also included a second related short story, Aliens: Theory of Alien Propagation, along with a pin-up gallery of the original issue cover artwork, a foreword by Verheiden, an afterword by Nelson and a selection of Nelson's original pitch artwork. All three comics were presented in black and white, with Lucky being specially converted from its original color format for this release.
Behind the Scenes
The creative team of writer Mark Verheiden, artist Mark A. Nelson, letterer Willie Schubert and editor Randy Stradley was the same that had produced Aliens: Outbreak, the first ever Aliens comic, in 1988. They were specially reunited for Aliens: Lucky in celebration of Dark Horse Comics' 10th anniversary.
Along with Aliens: Mondo Heat and Aliens: Lovesick, Lucky was one of only three Aliens comics published in the entire year of 1996, part of a two year slow-down of the line. Dark Horse was to start up a whole new slate of miniseries, one-shots and short stories again in 1997.
Gallery
External Links
Community content is available under
CC-BY-SA
unless otherwise noted.